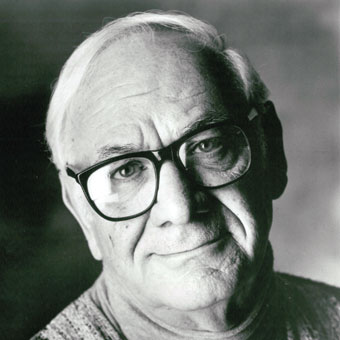 Dominick Argento
1927 - 2019
Introduction à la musique d'Argento
par Heidi Waleson
"Je pense qu'on peut diviser les compositeurs en deux groupes. Il y a ceux qui pensent que la fonction essentielle de la musique est émotionnelle par opposition à ceux qui trouvent que sa fonction essentielle est intellectuelle. Je me suis engagé à travailler avec des personnages, des sentiments et des émotions."
Dominick Argento
Dominick Argento est un vrai romantique américain. Inspiré par un personnage et un événement, par une œuvre littéraire ou l'ambiance d'une cité particulière, il crée des opéras d'une grande richesse mélodique, des cycles de chansons at des œuvres pour orchestre et pour choeur. Les œuvres d'Argento sont élaborées avec beaucoup d'esprit et de passion, et toujours avec la forme et la couleur dramatiques qui leur confèrent un caractère théâtral. Ses œuvres parlent au coeur.
Argento est né en Pennsylvanie, mais a passé la plus grande partie de sa vie à Minneapolis dans le Minnesota où il devint professeur en 1958. Fuyant les modes et les tendances du monde musical contemporain, il développa un style emprunt d'une expression et d'une tonalité personnelles, et contribua à nourrir un public qui répondait à sa musique. Il fut le co-fondateur de la Center Opera Company, plus tard appelée l'Opera du Minnesota, où nombre de ses opéras ont été pour la première fois interprétés. Il a composé pour le nouveau Théâtre de Guthrie l'Orchestre du Minnesota, I'Orchestre de Chambre de St Paul les Dale Warland Singers et d'autres organisations dans les villes jumelles de Minneapolis et St Paul. Pour le Minnesota, Argento a été en quelque sorte un compositeur residant à titre privé.
Cependant ses œuvres, et notamment les opéras, ont franchi les frontières de l'Etat où il avait élu de vivre. Postcard from Morocco a été interprété dans tous les Etats-Unis et outre-mer, The Voyage of Edgar Allan Poe a été acclamé en Suède, et Casanova's Homecoming qui a connu un énorme succès à l'Opera de New York City, a eu sa première européenne en Allemange. Ses compositions séduisantes pour voix ont attiré des artistes de renommée internationale qui ont interprété des cycles de chansons tout spécialement composés: From the Diary of Virginia Woolf écrit pour Janet Baker avec lequel il a remporté le prix Pulitzer, The Andrée Expedition et A Few Words About Chekhov pour Håkan Hågegard, et Casa Guidi pour Frederica von Stade.
Le secret d'Argento réside dans l'évocation magistrale des lieux et des
sentiments avec ses envolées pour voix et ses orchestrations très colorées. De la vie de famille intime et obsédante de Casa Guidi en passant par une écriture des lettres d'Elizabeth Barrett Browning, et la comédie et le désespoir de A Water Bird Talk, jusqu'au rythme parisien de Capriccio for Clarinet and Orchestra et les explosions joyeuses de A Ring of Time, inspiré par les cloches et les églises de Florence, la résidence secondaire adorée du compositeur, c'est toute la musique d'Argento qui parle à son public avec une fraîcheur et une ardeur remarquables.
Heidi Waleson, 1987
(Critique d'art lyrique du Wall Street Journal et
chroniqueur pour la musique classique de Billboard)