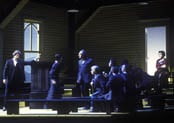 Photo: Dan Rest
Floyd, Carlisle
A musical drama in two acts
Duration: 105 minutes
Music Text
Libretto by the composer, based on a story from the Apocrypha (E,G)
Scoring
Major roles: S,T,BBar; minor roles: 2S,M,A,3T,2Bar; chorus; dancers
2(II=picc).2(II=corA).2(II=bcl).2(II=dbn)-4.2.3.1-timp.perc:SD/cyms/
gong/xyl-cel-harp-strings
Abbreviations (PDF)
World Premiere
2/24/1956
Florida State University, Tallahassee, FL
Lynn Orr, director
Conductor: Karl Kuersteiner
Company: Florida State University
Roles
| | |
| --- | --- |
| Susannah Polk | Soprano |
| Sam Polk, her brother | Tenor |
| Olin Blitch, an evangelist | Bass-baritone |
| Little Bat McLean | Tenor |
| Elder McLean | Baritone |
| Elder Gleaton | Tenor |
| Elder Hayes | Tenor |
| Elder Ott | Baritone |
| Mrs. McLean | Mezzo-soprano |
| Mrs. Gleaton | Soprano |
| Mrs. Hayes | Soprano |
| Mrs. Ott | Contralto |
| People of New Hope Valley | Singers & Dancers |
Time and Place
The Recent Past, New Hope Valley, Tennessee
Synopsis
Written during the McCarthy era, Susannah is based loosely on the Apocryphal tale of Susannah and the Elders. In New Hope Valley, Tennessee, Susannah – a pretty and well-mannered young woman of humble origins – is faced with hostility from her church community. The opera opens at a square dance given by her church; a group of wives, jealous of Susannah's beauty and the attention it brings from their husbands, are gossiping about her. Mrs. McLean, one of the wives, states that you can't expect more from someone who was raised by her drunken brother. Finally, the Reverend Olin Blitch, newly arrived to lead the congregation, enters and asks Susannah to dance despite the gossip. Later that evening, Susannah tells her admirer Little Bat – son of Mrs. McLean and her husband, an elder of the church – about the dance; Little Bat leaves abruptly once her brother Sam returns from hunting
The next morning Susannah is innocently bathing naked in the creek near her home; she is discovered by the elders, who are searching for a baptismal stream. They conceal their lust with outrage and tell the community of her wickedness. Susannah arrives at a church dinner that evening and is sent away, much to her confusion. Later, as she is pondering why she has been shunned, Little Bat tells her that the elders have denounced her for bathing in the nude, and admits that he was coerced into saying she seduced him.
Sam informs Susannah that she must make a public confession in order to be absolved. Though she claims she has nothing to confess, she goes to the service where Olin Blitch is preaching. When she is singled out to come forward, she runs away. Once the service has ended, Reverend Blitch goes to Susannah's house and offers to pray for her soul; upon discovering that her brother is away, Blitch rapes her.
The next day Blitch, having discovered that Susannah was a virgin, comes to her and begs for forgiveness. He throws herself at Susannah's mercy, but she refuses to forgive him. When Susannah tells Sam the story he threatens to kill Blitch; he leaves for the baptismal service, carrying his shotgun. Convinced that Susannah led her brother to murder, the community heads to her house to drive her out of the valley. However, Little Bat has warned her in advance, and when the vigilantes arrive she is waiting with a shotgun. They retreat, but she has effectively severed her ties with the community and her world.
Press Quotes
"Composed 50 years ago at the height of the McCarthy persecutions, it is a flawlessly effective melodrama focused on an innocent woman victimised by a narrow Evangelical community in rural Tennessee. …it speaks straight to the heart through music of uninhibited tonal simplicity and Pucciniesque fervour."
Daily Telegraph
Subjects
Contemporary, Ethics, History, Relationships, Society
Recommended Recording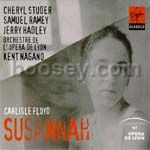 Cheryl Studer, Jerry Hadley, Samuel Ramey, Kenn Chester, Michael Druiett, Steven Cole, Stuart Kale, David Pittsinger, Anne Howells, Della Jones, Jean Glennon, Elisabeth Laurence, Lyon Opera Chorus, Lyon Opera Orchestra, Kent Nagano
Virgin Classics VCD5450392