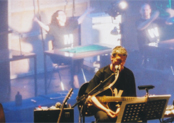 Photo: Frank Heller
Oehring, Helmut
WOZZECK kehrt zurück
(WOZZECK comes back)
(2003/4)
tonschriftliche MOMENTAUFNAHME in drei Abzügen (12 Kontakten) (sound-scriptural SNAPSHOT in three proofs (12 contacts))
Duration: 90 minutes
Music Text
Texte von Georg Büchner, Martin Luther, Helmut Oehring und aus der Offenbarung des Johannes (dt.), sowie drei Liedtexte von Jörg Wilkendorf
Scoring
1 soloist as singer, speaker and solo elec. and ac. guitar player; 3 deaf mute soloists; 3 female soloists (2S,M); chamber chorus (22 singers); 1.bass ob.1.bcl.0-2.1.1.dbtrbn.0-perc(3)-prepared pft(=keyboard)-strings(2.2.2.2.2)-live-electronics-beamer
Abbreviations (PDF)
Publisher
Boosey & Hawkes Bote & Bock
Territory
This work is available from Boosey & Hawkes der ganzen Welt.
Uraufführung
6/26/2004
Theater, Aachen
Christina Schönfeld/Jörg Wilkendorf, sol. / Michael Simon, dir.
Conductor: Jeremy Hulin
Company: Orchestra and Choir of the Theater Aachen
Synopsis
Oehrings Wozzeck ist das Drama der Ungeborgenheit und Unbehaustheit des Menschen in einer entgöttlichten und entmenschlichten Welt. Das Werk basiert zum großen Teil auf Georg Büchners Theaterstück Woyzeck von 1836, kombiniert mit Aussprüchen Martin Luthers, Texten aus der Offenbarung des Johannes sowie Text-Passagen vom Komponisten selbst. Jedoch auch Alban Bergs Wozzeck (1921) wirkt konstituierend, wird zum stofflichen und musikalischen Dreh- und Angelpunkt des Stückes. Im Mittelpunkt der tödliche Konflikt zwischen Tambourmajor, Wozzeck und Marie, freilich versehen mit neuen Perspektiven auf die alte Geschichte – durch die ebenso faszinierende wie geheimnisvolle Welt der Gehörlosen, Oehrings eigenen biographischen und ästhetischen Hintergrund.
Press Quotes
"Mit WOZZECK kehrt zurück ist Oehring... ein optisches und akustisches Faszinosum gelungen, das mit der intensiven Sogwirkung seiner Klangbilder das Publikum für sich einnahm... Als Bündelung sämtlicher Eindrücke, die eigenartigerweise keine Reizüberflutung provozieren, erweisen sich die Klang­teppiche Helmut Oehrings. Jazz- und Rockelemente, pulsierende Herz­schlag­rhythmen, Tonfolgen zwischen Melodie und Geräusch, Klangpsychologie wie in Filmsequenzen, wo die Akustik das Adre­nalin unbewußt steigen läßt, schärfen die Sinne, hinterfragen Fakten und suchen nach den Gedanken des Täters und Opfers Wozzeck." (Brigitte Kempen, Aachener Nachrichten, 27.06.2004)
Subjects