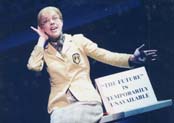 Photo: Opera North / Stephen Vaughan
Shostakovich - McBurney
Moscow Cheryomushki (ensemble version)
(Moskau Tscherjomuschki (reduzierte Fassung))
(1957-58, arr. 1993-94)
A Musical Comedy in three acts; ensemble version orchestrated by Gerard McBurney
Duration: 160 minutes
Music Text
Libretto by Vladimir Mass and Mikhail Chervinsky; English version by David Pountney (R,E)
Scoring
Major roles: 2S,M,T,3Bar,B,singing actress and actor-Minor roles: 4S,3M,2T,2B; chorus; ballet
1(=picc).0.1(=Ebcl).asax(=ssax).tsax(=barsax)-0.2.1.02-perc(1):2tgl/whistle/swanee.whistle/glass.chimes/metal-chimes/maracas/football.rattle/2wdbl/2tamb/3bongos/2tom-t/rototom/SD/TD/BD/ cyms/3susp.cym/gong/tam-t/car.horn/metal.twang/glsp/vib/5elec.bells/wind.machine/2thundersheets-gtr(=banjo/ukulele/pft(out-of-tune).strings(1.1.0.1.1)
Abbreviations (PDF)
Publisher
Boosey & Hawkes / Sikorski
Territory
This work is available from Boosey & Hawkes / Sikorski für das Vereinigte Königreich, den Britischen Commonwealth (außer Kanada), die Republik Irland, Deutschland, die Schweiz, Dänemark, Island, Norwegen, Schweden, die Niederlande, Spanien, Portugal, Griechenland, die Türkei und Israel.
Availability
Erstaufführung der Fassung
10/19/1994
Lyric Theatre, Hammersmith
Lucy Bailey, dir/Paul Andrews, des/Caroline Pope, chor
Conductor: Wasfi Kani
Company: Pimlico Opera
Roles
| | |
| --- | --- |
| LUSIA, Bauarbeiterin | Sopran |
| SERGEJ, Chauffeur | Tenor |
| BORIS, Sprengstoffexperte | Bariton |
| DREBEDNIOW, ein reicher Bürokrat | Baß |
| BARABASCHKIN, Grundstücksverwalter | Bariton |
| LIDOSCHKA, Museumsführerin | Singende Schauspielerin |
| BABUROW, Lidoschkas Vater | Singender Schauspieler |
| SASCHA, Museumsführer | Bariton |
| MASCHA, seine Frau | Mezzosopran |
| WAWA, Drebedniows zweite Frau | Sopran |
| Nachbar | Baß |
| Nachbarin | Mezzosopran |
| Lusias Freundinnen | Sopran, Mezzosopran |
| Nervöse Dame | Mezzosopran |
| KUROSCHKIN | Tenor |
| KUROSCHKINA | Sopran |
| MYLKIN | Baß |
| MYLKINA | Sopran |
| Ehemann | Tenor |
| Ehefrau | Sopran |
| Bauarbeiter und Mieter | |
Time and Place
Die Tscherjomuschki-Siedlung in Moskau, 1950er Jahre
Synopsis
Ende der fünfziger Jahre erscheinen neue Hochhaussiedlungen am Stadtrand von Moskau. Eine davon heißt Tscherjomuschki ("Kirschbäume"). Eine bunt gemischte Schar von Freunden und Bekannten freut sich schon darauf, in den schicken neuen Wohnblocks einquartiert zu werden. Unter ihnen sind die frisch vermählten Sascha und Mascha Bubenzow, die momentan getrennt voneinander in Wohnheimen leben, da sie keine Wohnung finden. Mit dabei ist auch der alte Baburow, der noch zweifelt, ob er sein altes Zuhause in Moskau verlassen soll, und seine verkopfte Tochter Lidoschka, die – wie Sascha Bubenzow – Führungen in einem Museum leitet. Auch Boris, ein Sprengstoffexperte, ist unter ihnen; er verliebt sich bald in Lidoschka. Neben ihnen gibt es noch Sergej, einen Chauffeur für ein hohes Tier der Stadtregierung, und Lusia, die zeitweilig seine Freundin ist und als Kranführerin in der Tscherjomuschki-Siedlung arbeitet. Leider ist Sergejs Chef Drebedniow korrupt. Zusammen mit dem Hausmeister Barabaschkin versperrt er den Zugang zu den neuen Wohnungen.

Drebedniow hat gerade eine schicke junge Frau geheiratet, die platinblonde Wawa, und möchte für sie beide zwei Wohnungen zu einem Luxusapartment zusammenlegen. Da Barabaschkin die Schlüssel nicht hergibt, hebt Lusia Boris und Lidoschka mit dem Kran zu der Wohnung hinauf, in die die Baburows ziehen wollen. Während sie sich die Wohnung ansehen (und sich dabei etwas näher kommen), brechen Drebedniow und Barabaschkin plötzlich von der anderen Seite ein Loch in die Wand, und die jungen Leute werden hinausgeworfen.

Sascha und Mascha haben sich die Schlüssel von ihrer neuen Wohnung besorgt und geben eine Einweihungsparty. Da kommt Lusia und berichtet von Drebedniows Absicht, die Baburows am Beziehen ihrer rechtmäßigen neuen Wohnung zu hindern. Entsetzt tun sich die neuen Tscherjomuschki-Mieter unter Lusias Führung zusammen und bauen einen Zaubergarten mit einer Wahrheitsbank. Jeder, der auf der Bank sitzt, muß die Wahrheit sagen. Drebedniow, Wawa und Barabaschkin werden alle vorgeführt und entmachtet. Die beiden Liebespaare, Lusia und Sergej sowie Boris und Lidoschka, werden vereint und alle leben glücklich bis an ihr Ende.
Repertoire Note
All his life Shostakovich had a fondness for light-music, operetta and musicals. In the late 1950s a friend became conductor at the Moscow Operetta Theatre and this gave the composer a chance to try out the genre for himself, working with two leading popular writers of the day.
The result was a highly entertaining satirical romp, mocking the corruption and idealism of the USSR in the post-Stalin era and poking particular fun at Khrushchev's notoriously overambitious plan to rehouse almost the entire population in hastily built and splendidly up-to-date apartment blocks, complete with fridges, lifts and all mod cons. The plot concerns a group of happy and enthusiastic young Muscovites who look forward to being rehoused in the smart new high-rise estate of Cheryomushki but find that practicalities are a more complicated than they first imagined. Local officials have their own dastardly plans for what they want to do with these new flats and are greedily trying to take bribes or keep the apartments for themselves. Naturally, after some ups and downs, good wins out.
The score bursts with energy and catchy tunes, not to mention some wonderful parodies of perennial favourites like Tchaikovsky's 'The Sleeping Beauty' and Lehar's 'The Merry Widow'. In its original it is scored for a large orchestra, handled with tremendous verve and colour. More recently, in modern cut-down versions for chamber ensembles, it has found a new life as a delightful addition to the repertoire for smaller-scale opera companies. In 1962, with some changes to the music and a simplified title, 'Cheryomushki', this operetta was turned into an ebulliantly vulgar film, which will appeal to anyone with a taste for mid-20th-century kitsch.
Note by Gerard McBurney
Press Quotes
"Ein faszinierendes Werk, in dem Schostakowitsch die Vorstadtentwicklung in der russischen Hauptstadt subtil aufs Korn nimmt. Das in der Kruschtschow-Ära komponierte Stück ist voller subversiver Untertöne, versteckt in einer unschuldigen Musik, die Parodien von Offenbach und einigen russischen Komponisten enthält."
BBC Music Magazine
Subjects