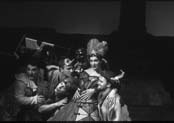 Photo: Amelia Stein
Haas, Pavel
Sarlatán
(The Charlatan/Scharlatan)
(1934-37)
Tragicomic opera in three acts
Duration: 125 minutes
Music Text
Libretto vom Komponisten; deutsch von Jaroslava und Thomas Mandl (tschech., dt.)
Scoring
2S,6T,Bar,2B; small roles; chorus;
2.picc.2.corA.2.bcl.2.dbn-4.3.3.1-timp.perc-harp-cel-strings
Abbreviations (PDF)
Publisher
Boosey & Hawkes / Bote & Bock
Territory
This work is available from Boosey & Hawkes in der ganzen Welt.
Availability
Uraufführung
4/2/1938
National Theatre, Brno
Rudolf Walter, Regisseur
Conductor: Guido Arnoldi
Company: Ensemble of the National Theatre Brno
Roles
| | |
| --- | --- |
| DOKTOR PUSTRPALK, fahrender Arzt | Bariton |
| ROSINA, seine Frau | Sopran |
| BAKKALAUREUS | Tenor |
| SAUERMILCH, Koch | Tenor |
| SPINNWEBE | Baß |
| ROLLMOPS | Tenor |
| FEUERFRESSER | Tenor |
| SEILTÄNZER | Baß |
| SCHLANGENBESCHWÖRER | Baß |
| APOTHEKER | Tenor |
| 2 DIENER | Tenor, Bariton |
| AMARANTA | Sopran |
| KÖNIG | Bariton |
| Städtischer Physikus, Theriakverkäufer, Joachimus' Knecht, 3 Studenten, Mann mit Krücken, Ein fahrender Feldscher | kleine Nebenrollen |
| Weitere kleine stumme Rollen | |
| Heer, Volk, Faschingsnarren | |
Time and Place
Europa Ende des 17., Anfang des 18. Jahrhunderts
Synopsis
Die Geschichte spielt am Ende des 17. Jahrhunderts, in einem vom 30jährigen Krieg verwüsteten Europa an der Schwelle zur Aufklärung. Der Arzt wird als Magier verehrt oder als Scharlatan verfolgt, wie ihm sein Handwerk denn glückt. Pustrpalk ist ein solcher, betreibt sein Gewerbe als fahrender Quacksalber, mit Rosina, seiner xanthippischen Frau, Gauklern und Komödianten im Troß, die das Volk mit Zauberstücken und Possen zum Lachen bringen, wenn drinnen der Patient brüllend einen Zahn drangibt. Eines Tages kuriert Pustrpalk eine Dame von Stand, die schöne Amaranta, mit probatem Mittel vom taedium vitae. Sie verläßt ihren langweiligen Professorengatten, zieht mit der Truppe und sorgt für allerhand Wirbel, denn Pustrpalk will sie zur Konkubine, und zwei Frauen im Schlepptau, das geht selten gut... Wo immer er auftaucht ist Pustrpalk der Held des Tages. Sogar der König spendet ihm Beifall und nennt ihn den größten Mann der Zeit. Doch Pustrpalk weiß, daß die Zeit nicht groß ist, daß Bruder Hein ihm grinsend zur Seite geht, daß die Kirche den Fortschritt verhindert, denn der menschliche Körper bleibt ein Tabu. Als ihm ein kranker Mönch unter dem Messer stirbt und das Volk ihn desMordes verdächtigt, verläßt ihn der Mut. Als ein "Don Quixote der Medizin", halb Weiser, halb Narr, stirbt er verkannt im Kreis seiner grotesken Jahrmarktsgesellschaft.
Moods
dramatisch, heiter, poetisch, romantisch
Subjects
Recommended Recording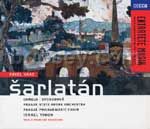 Vladimír Chmelo / Jan Jezek / Prague State Opera Orchestra / Israel Yinon
Decca 460 042-2
Links