(second part of the orchestral triptych Triduum)
Duration: 41'
Scoring
2(II=picc).2.2(II=Ebcl,bcl).1.dbn-4.3.3.1-timp-perc(3):glsp/xyl/vib/
cyms/susp.cym/sizzle cym/BD/SD/lg tam-t/sm tam-t/tuned gongs/
3bongos/lg thundersheet/metal bar/2lge plastic jamblocks/lg plywood
cube-pft(=cel)-harp-strings
Abbreviations (PDF)
Publisher
Boosey & Hawkes
Territory
This work is available from Boosey & Hawkes for the world.
World Premiere
10/3/1996
Barbican, London
Mstislav Rostropovich, cello / London Symphony Orchestra / Colin Davis CBE

Composer's Notes
The Mockery
The Reproaches
Dearest Wood and Dearest Iron
The Cello Concerto is the second of three interrelated works forming a triptych commissioned by the London Symphony Orchestra for performance in 1996 and 1997. The first work, The World's Ransoming for cor anglais and orchestra, was premiered by Christine Pendrill and Kent Nagano in July of this year. and the third work is a large symphonic score to be premiered in the autumn of 1997 conducted by Mstislav Rostropovich. All three works relate to the events and liturgies of the Easter Triduum, namely Maundy Thursday, Good Friday and the Easter Vigil.
The first movement of the Cello Concerto, entitled The Mockery, begins with a slow, tense introduction. The material of the main fast music that follows is modelled on the comic songs of the Music Hall tradition, though the humour is predominantly black and sardonic in tone. The score is here marked 'burlando' and 'grotesque', and the music is related to that of the Executioner's Song that prefaces the final scene of my opera Inés de Castro. A stately waltz makes an appearance in the movement's middle section but both ideas are interrupted suddenly by fragments of a full-throated chorale based on the plainsong Crucem tuam adoreums, Domine, which appears in its entirety in the coda.
In the slow second movement, set in a simple binary form, most of the cello's melodic line is drawn from the plainsong for The Reproaches. These are sung during the kissing of the Cross in the Good Friday liturgy ("My people, what have I done to you? How have I offended you? Answer me.") The other thematic idea is a quotation from the Scottish presbyterian hymn known as Dunblane Cathedral.
The final movement is based on the plainsong Crux fidelis which includes the refrain "Dearest wood and dearest iron, dearest weight is hung on thee". The skeleton of the structure is a strict series of episodes with the plainsong providing a recurring refrain, but around this the music moves unpredictably and dramatically, fluxing rapidly between a wide range of moods and colours. In the final section, the chorale from the first movement returns, coupled with violent and rhythmic sounds for wood and metal percussion instruments. The solo cello slides to its highest register where is swirls and hovers as the music fades to extinction.
The Cello Concerto is dedicated to Mstislav Rostropovich.
James MacMillan
Reproduction Rights
This programme note can be reproduced free of charge in concert programmes with a credit to the composer
Press Quotes
"With customary energy, MacMillan manipulates his material and uses splashes of orchestral colouring to create fluctuating moods — celestial or violently propulsive... The concerto has reasoning, intensity and beauty."
Daily Telegraph
Recommended Recording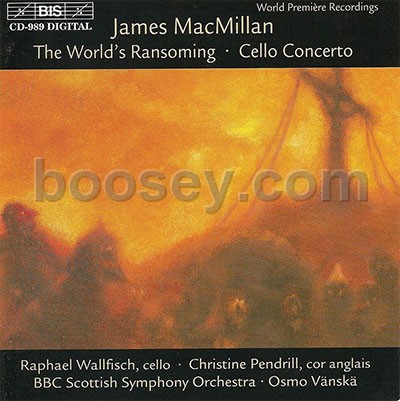 Raphael Wallfisch, cello/BBC Scottish Symphony Orchestra/Osmo Vänskä
BIS CD 989