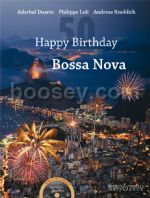 Knoblich, Andreas (Duarte) - Happy Birthday Bossa Nova (Guitar, CD)
Instrumentation: Guitar, CD
ISMN 9790202523247
Publisher Bote & Bock
Availability: Stock Title
Level of Difficulty: Intermediate
Bossa Nova began in Brazil 50 years ago, in 1958. For playing in this style, (named for the Portuguese for "new trend") the classical guitar quickly became the crucial instrument. This jubilee collection spotlights world-famous bossa arrangements and exciting new compositions that will appeal to every guitarist.

Featured guitarist/composers are Aderbal Duarte (Brazil), Philippe Loli (Monaco) and Andreas Knoblich (Germany).

Also see the new publication Fly to Brazil, with compositions and arrangements for flute and guitar!
Contents

01. Triste (Jobim/Duarte)
02. Arco Iris (Loli, for 2 guitars)
03. Fly to Brazil (Knoblich)
04. Deixa (B.Powell/Moreas/Duarte)
05. Dopo la Pioggia (Loli, for 2 guitars)
06. Copacabana blue (Knoblich)
07. Samba de Uma Nota Só (Jobim/Mendonça/Duarte)
08. Costa del Mar (Loli, for 2 guitars)
09. Rio Negro (Knoblich)
10. De Volta ao Brasil (Duarte)
11. Bossa de Janeiro (Loli, for 2 guitars)
12. Tempos de amor (Knoblich)
---
Customer Reviews
"Eine tolle und sehr gelungene Ausgabe mit wunderschönen Stücken. Sehr empfehlenswert!!!"
Rating: 5/5 5/1/2008 By: Wolfram Bittner
"Very nice pieces. Great!!"
Rating: 5/5 8/27/2008 By: Georges Calmes
"English Text: This afternoon, I came out of my favourite music book shop with a truly special work under my arm. At home I took my guitar out and placed my new score onto the music stand. I was instantly enraptured by the first few notes. To celebrate in 2008 the 50th anniversary of the Bossa Nova, created by Joao Gilberto*-, Boosey & Hawkes are releasing this exciting collection of pieces for one or two guitars. Twelve pieces -four of which are duos- form this collection. Most of them are written for players of an intermediate level, although some passages are more technically demanding. There are two pieces by Antonio Carlos Jobim (Triste & Samba de uma nota so), the very man thanks to whom Bossa Nova is now a style of music appreciated worldwide. There is also an excellent arrangement of Baden Powell's Deixa. As for the other pieces, they are all original compositions by Aderbal Duarte, Philippe Loli and Andreas Knoblich. These three composers –who also happen to be excellent guitarists- show a great mastery and knowledge of the instrument (see biographies at the back). The pieces are thoroughly enjoyable both to the ear and to the fingers, and represent a fine tribute to the greatest of Bossa Nova standards. A CD of all these pieces accompanies this collection , which features standard notation, plus chord grids with left-hand fingerings. *Henri Salvador more or less claimed that he had created the Bossa Nova style and that he had inspired Jobim. ______________________ French Text: Cet après-midi, je suis sorti de ma librairie musicale préférée avec un bel ouvrage. Arrivé à la maison j'ai pris la guitare et posé les partitions sur le pupitre. J'ai été conquis dès les premières notes: Pour fêter en 2008 le cinquantenaire de la bossa nova, créée par Joao Gilberto*, Boosey & Hawkes édite ce recueil d'instrumentaux pour une ou deux guitares. 12 pièces le constituent dont 4 duos. Un niveau intermédiaire suffit à jouer la plupart d'entre elles, avec toutefois quelques passages plus délicats. On y trouve deux titres d'Antonio Carlos Jobim (Triste et Samba de uma nota so), celui qui a propulsé la popularité de ce style à un niveau international. On pourra aussi jouer un excellent arrangement de Deixa composé par Baden Powell. Pour le reste il s'agit d'oeuvres originales des trois auteurs du recueil, à savoir Aderbal Duarte, Philippe Loli et Andreas Knoblich. Ce sont des guitaristes confirmés au CV éloquent (lu sur le livret). Les compositions sont belles et agréables tant à l'oreille que sous les doigts, et les règles du styles sont respectées. Un cd est joint avec toutes les pièces interprétées. Solfège uniquement. Grilles d'accords et de positions, doigtés main gauche. *Henri Salvador revendiquait un peu cette création en affirmant avoir inspiré Jobim."
Rating: 5/5 6/9/2009 By: Luc Gueugneau
Tell us what you think
---
News stories for this title
Happy Birthday Bossa Nova