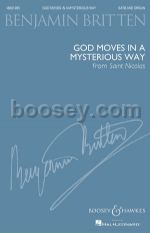 Britten, Benjamin - God Moves in a Mysterious Way (SATB & Organ)
from "Saint Nicolas"
Instrumentation: SATB, Organ
ISMN 9790051482504
ISBN 9781458471598
Publisher Boosey & Hawkes (New York)
Availability: Stock Title
Level of Difficulty: Intermediate


Saint Nicolas (note the name has no 'H' in it!) was written for the centenary of Lancing College in Sussex, the independent secondary boarding school on the south coast of England which Peter Pears had attended in his teens. It has a vast chapel intended by its founder, Revd Nathaniel Woodard, as the cathedral for all the schools of his extensive foundation known collectively as 'Woodard' schools. St. Nicolas is famous for many legendary miracles and for being the original 'Santa Claus'. Crozier's libretto is designed to tell the story of his life, to recount some of his most celebrated acts and to give the audience/congregation the opportunity of joining in two beautiful hymns at key moments: 'All people that on earth do dwell' and 'God moves in a mysterious way his wonders to perform'. The narration is all done by the choir, though the tenor sings first-person narratives as well in his role as the mature Nicolas. The young Nicolas is sung by a boy in movement II. There is a dramatic moment at the end of this movement when the boy's voice does a tumble and the tenor proclaims in the voice of Nicolas as a young man: 'God be glorified'.

The third movement is an accompanied recitative in which the soloist sings of Nicolas devoting himself to God through the agonies and torment of the many distractions and temptations of life. His faith wins through and he sings a final touching phrase: 'and Love was satisfied'. The sea whips up a storm in the next movement: 'He journeys to Palestine'. It threatens to overturn the ship and drown everyone on board. There is wailing from the sopranos and altos of the semi-chorus and agonised calls from the tenors and basses to 'man the pumps'. Finally, Nicolas begs God to let the storm cease and offers thanks for their safe delivery. Britten creates a palpable sense of relief in the final pages.

In the fifth movement, 'Nicolas comes to Myra and is chosen Bishop', the choir sings chorale-like phrases welcoming him as their new Bishop. They go through his ceremonial dressing with all the accoutrements of his office, the mitre, crozier (nice pun on the librettist's name), robe and ring. An energetic chorus 'Serve the faith and spurn his enemies' leads to the first great hymn - a wonderfully climactic moment. Britten's arrangement is suitably uplifting.

The final movement tells of Nicolas' death and the work ends with the other great hymn: 'God moves in a mysterious way'.

This work demonstrates to me Britten's generosity of spirit and his natural feeling for enriching the repertoire at all levels of attainment. What a gift!

Duration: 50 minutes

Paul Spicer, Lichfield, 2011
There are currently no reviews for this product.
Tell us what you think