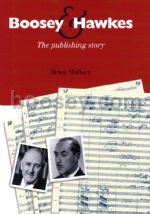 - Boosey & Hawkes: The Publishing Story
ISMN 9780851625140
ISBN 9780851625140
Publisher Boosey & Hawkes (London)
Availability: Stock Title
The publishing story of Boosey & Hawkes begins in 1930 with the merger of two rival music companies. Rather than waging a price war, Leslie Boosey and Ralph Hawkes joined forces and expanded their business from its London base to forge an international enterprise.
Signing established figures such as Bartók and investing in talented young composers like Britten and Copland, the company fully came of age with the acquisition of the Koussevitzky catalogue including works by Stravinsky, Rachmaninoff and Prokofieff. Close friendships developed, such as Ernst Roth's with Strauss and Stravinsky in their final decades, whilst that with Britten was rent asunder by bitter in-fighting. Since 1970 the contemporary catalogue has embraced composers ranging from Birtwistle and Carter to Reich, Adams and Górecki.
Through boom years and unexpected financial threats, artistic foresight has been balanced with commercial reality to build "the world's leading classical publisher" (Classical Music magazine).
Helen Wallace has worked as a music critic on The Times and as editor of The Strad, BBC Music Magazine, Southbank and About the House for the Royal Opera House. Her publications include Spirit of the Orchestra, about the Orchestra of the Age of the Enlightenment, and Classique UK. She is active as a broadcaster on BBC Radio 3 and 4 and is a Kodály teacher and cellist.
Contents

1930-39: Bold moves
1939-40: War
1941-42: The Wigmore Hall concerts
1943-45: 'Machiavellian it may be…'
1946-50: Spoils of war
1950-58: Going on without Ralph
1958-64: Crisis and change
1960-71: History repeats itself
1966-74: Division and development
1974-80: Back to Europe
1980-86: The Boxford years
1986-95: The Górecki phenomenon
1996-2006: Music Publishing breaks free
Boosey family tree
Hawkes family tree
---
Press Reviews
"Rivalry, romance, jealousy, generational change: the Boosey story is a ripping yarn worthy of a novel, if not a grand opera… Wallace's racy digest shows us how backroom businessmen continue to shape musical history." Financial Times Magazine "Scandal, feuding and fraud... Who would have thought that the inside story had all the trappings of a bestseller?" The Scotsman "...a surprisingly gripping narrative. For those who wonder what really goes on in music publishing, it offers a fascinating read." BBC Music Magazine "A full-length exposé, immaculately researched, that brings the various figures both in front and behind the scenes to life." Classic FM Magazine
Tell us what you think