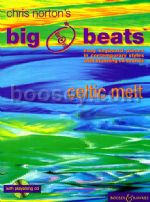 Instrumentation: Keyboard, CD


A new piano playalong concept from the creator of Microjazz.

Easy solo piano pieces in pop styles with start-of-the-art CD accompaniments.  Play the solo piano piece "straight" or add the backing tracks and enter a whole new world of sound.

Chris Norton does it again with his unique blend of traditional technique with popular styles.  Students will learn all about technique - rhythm, co-ordination and listening, but they'll be having so much fun, they won't know they're doing it!



Contents

Celtic Mist
Irish Cream
Mists among the Stones
Murphy's Magic
New York Irish
Outward Bound
Shamrock Flyer
The Old Boys' Session
The Stream
Two in the Bush
---
Press Reviews
"This is not just more of the same, far from it! All the pieces work on their own or with the CD combo backing. The composer sees it it as building more than just jazz feel and technique. Musicianship, ensemble skills, improvisation and co-ordination - all these are addressed marvellously. He believes this is Microjazz for the next generation, more dramatic, more interactive and certainly smarter to look at. I can't argue with this! It looks and sounds great - another Boosey/Norton surefire success"
Tell us what you think