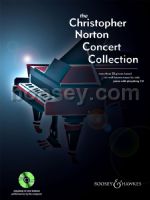 Norton, Christopher - Christopher Norton Concert Collection (Piano)
More than 20 pieces based on well-known tunes
Instrumentation: Piano, CD
Take the stage with this bumper compilation for the concert platform. 23 stunning pieces for solo keyboard. Often humorous and always inventive, play Chris Norton's take on well-known folk tunes, Christmas carols and nursery rhymes. Plus you can play along with the accompanying backing CD or listen to inspiring performances by the composer.

Contains all the music previously published in Swing A Carol, Lavender's Kind of Blue and Yankee Doodles, with newly recorded performances and backing tracks.
Contents

01. Polly Wolly Doodle
02. Dixie
03. Carry Me Back to Old Virginny
04. Camptown Races
05. Home on the Range
06. Yankee Doodle
07. Turkey in the Straw
08. Dreadful Sorry, Clementine
09. Alabama Rag
10. King Boogie
11. We Wish
12. Camel Stomp
13. Deck the Hall
14. Away in a Manger
15. Good Christian Men
16. Joy to the World
17. Twinkle
18. Put It All Together (Eggshells)
19. Lavender's Kind of Blue
20. Bo Peep
21. Kettle Rag
22. The Tragedy of Mary
23. Black Sheep of the Family
---
Press Reviews
"more than 20 recital pieces for young players, all marked by ingenuity and appeal"
"Christopher Norton again gives pianists the opportunity to enjoy some well-known tunes in his own inimitable style.... A playalong CD is included, with a backing track and performance track for each song, and featuring performances by the composer. This is a most entertaining album for intermediate level players."
Tell us what you think