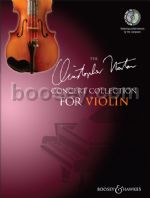 Norton, Christopher - Christopher Norton Concert Collection for Violin
15 original pieces for violin and piano
Instrumentation: Violin, Piano
ISMN 9790060119873
ISBN 978-0-85162-557-7
Publisher Boosey & Hawkes (London)
Availability: Stock Title
Level of Difficulty: Intermediate
Take the stage with the Christopher Norton Concert Collection! Stunning music for solo violin and piano for intermediate to advanced-level players, from the creator of Microjazz.
Contents

01. Turkey in the straw
02. Swanee river
03. Polly Wolly Doodle
04. Carry me back
05. Dixie
06. King Boogie
07. We wish
08. Good Christian men
09. Camel stomp
10. I saw three ships
11. Put it all together
12. Hush little baby
13. Twinkle
14. Black sheep of the family
15. Kettle rag
---
Press Reviews
Here is another set of attractive pieces from Christopher Norton, still on fine form after so many years as Boosey & Hawkes' purveyor of jazzy morsels for the young. It really is great fun, and highly recommendable for anyone with the levels of confidence and facility to approach it all with gusto.
Tell us what you think
---
News stories for this title
Christopher Norton's Concert Collection for Violin