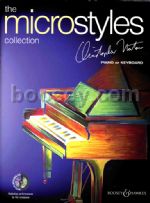 Instrumentation: Piano, CD
Just like Microjazz, Christopher Norton's Microstyles pieces use the same winning combination of classical pieces in popular styles, and have been best-sellers for years!





This bumper compilation takes the best from all 4 Microstyles books and takes the sounds into a new dimension with an accompanying CD featuring performances by the composer and backing tracks to help with practising.  A bargain with over 48 pieces and a CD for just £9.99.  If you like Microjazz, you'll love this fantastic bumper collection of pieces in a wide range of specific styles, with a stimulating playalong CD!
Contents

A Chamber (Rumba)
A Chromatic Outing (Chromatics)
A Spy Story (Funky Rock)
A Whimsy (12/8 Ragtime)
Attention Seeker (Rock)
Beguine (Beguine)
Bubble Gum (Reggae)
Cha Cha (Cha Cha Cha)
Cheeky (Rock 'n' Roll)
Chinese Walk (Oriental Style)
Clock Rock (Boogie/Rock 'n' Roll)
Down South (Rock Ballad)
Fax Blues (Ostinato)
Feeling Lazy (Rock Ballad)
Five to Eleven (5/4 & 11/8)
Foot Tapper (Disco)
Galloping (Rock 'n' Roll)
Give it Time (Walking Bass/Blues)
Giveaway (Tango)
Habanera (Habanera style)
Hard Rock Blues (Rock 'n' Roll style 8-beat)
Heavy Work (Mancini Stomp)
Hebridean Song (Slow Waltz)
Hideaway (Rumba)
In the Bag (Glen Miller style)
In the Sun (Bossa Nova)
Island Song (Jazz Waltz)
Last Tango (Tango)
Latin Nights (Bossa Nova)
Martinet (Heavy Rock)
Metal Merchant (Heavy Metal)
Misty Day (Waltz)
Misty-Eyed (Country Ballad)
Moving Along (Walking Bass)
Omnibus (Swing)
On the Line (Half Time Rock)
On the Run (Rhythm & Blues)
Orchid Garden (Jazz Waltz)
Oriental Flower (Slow Waltz)
Piano Exchange Rag (4/4 Ragtime)
Plus Fives (5/4 jazz)
Rhapsody (Romantic piano style)
Rocking Turkey (Half Time Rock)
Short & Sweet (Boogie)
Skipping Rope (Gospel)
Slinky (Reggae)
Sunny Side Up (Swing)
Without a Care (Swing)
---
Customer Reviews
"As a music teacher of 29 years, I have been using the Microjazz and Microstyles material for 19 of those years. The writing is terrific and the pupils willingly learn the pieces. I work with the smf disk. This keeps their timing in check. It is truly an excellent series."
Rating: 5/5 2/15/2009 By: Gwen Greenway
Tell us what you think