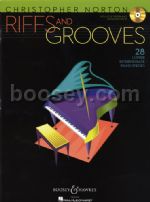 28 Lower Intermediate Piano Pieces
Instrumentation: Piano
ISMN 9790051105526
Publisher Boosey & Hawkes (New York)
Availability: Stock Title
Level of Difficulty: Intermediate
Riffs & Grooves is a great new compliation of original pieces for solo piano in a popular style: the perfect introduction to the composer who brought you the Microjazz series.

This career-spanning collection includes selections from Christopher Norton's bestsellers Celtic Melt, Chunky Phunky, Country Comfort, Microstyles Collection, Smooth Groove, and Microjazz Collection 1, 2 and 3. In addition to performance and backing tracks playable on both your CD player and computer, the included enhanced CD also includes tempo adjustment software for CD-ROM computer use.

"Riffs and Grooves is a collection of 28 pieces for students around Grade 1 and 2. Many of them you will recognise from earlier publications like Blues No. 1, Get In Step and Three Plus Two Blues but what is different here is the combination of so many of Christopher Norton's pieces in one book together with their CD which not only has performance and backing tracks to play along with but also boasts an additional feature. Using a computer you can access the Amazing Slow Downer software which, as named, will slow down the tempo of these tracks whilst you are learning the pieces without changing the pitch so you can still play along.

Christopher Norton was one of the first composers to start writing teaching pieces in jazz and other popular styles. Whilst there has been an avalanche of publications following suite his pieces still sound bright, fresh and current. What young student or adult, wouldn't enjoy playing Becalmed, Open Space or Shamrock flyer. Very enjoyable music and the CD adds and extra dimension making students feel they are part of the band."
EPTA Piano Journal


Contents

01 After the Battle
02 Becalmed
03 Big Jim
04 Blues No1
05 A Chromatic Outing
06 Coconut Rag
07 Down South
08 Fax Blues
09 From Far Away
10 Get in Step
11 Hideaway
12 Inner-city Stomp
13 Metal Merchant
14 Mists among the Stones
15 Misty Day
16 Not Sorry Enough
17 Open Space
18 Reflections
19 Reggae
20 Road Racer
21 A Sad Song
22 Shamrock Flyer
23 A Short Walk
24 Take Your Time
25 Three Plus Two Blues
26 Two-handed Blues
27 White Rose City
28 A Winter Song
---
Press Reviews
If you haven't already got a selection of Norton piano pieces, this would be an excellent start to your piano teaching library and a joy for young beginners to play.
The album is fine, nicely produced, easy-play and esy-listening and comes with the usual CD
A handy compendium of Norton's easier music. The 28 pieces are all between Grade 1 and 3 standard, with the majority written in common time and having no more than 2 sharps or flats.
Tell us what you think
---
News stories for this title
Christopher Norton's Riffs and Grooves