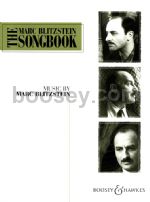 Blitzstein, Marc - The Marc Blitzstein Songbook volume one
Instrumentation: Voice, Piano
ISMN 9790051933440
Publisher Boosey & Hawkes (New York)
Availability: Stock Title
Level of Difficulty: Advanced
Contents

Be with me fr Reuben Reuben
Bird Upon a Tree fr Juno
Blues fr Regina
Croon Spoon fr The Cradle Will Rock
Displaced
Emily
Expatriate fr No For an Answer
Few Little English
Fraught fr No For an Answer
How I Met My New Grandfather fr Idiots First
I wish it So fr Juno
In the Clear fr No For an Answer
Joe Worker fr The Cradle Will Rock
Modest Maid
Nickle Under the Foot fr The Cradle Will Rock
One Kind Word fr Juno
Penny Candy fr No For an Answer
Such a Little While fr Reuben Reuben
The Best Thing of All fr Regina
The Cradle will Rock fr The Cradle Will Rock
The Freedom of the Press fr The Cradle Will Rock
The New Suit
The Purest Kind of Guy fr No For an Answer
The Rose Song fr Reuben Reuben
Then fr The Magic Barrel
What Will it Be? fr Regina
With a Woman Be fr Sacco and Vanzetti
---
Press Reviews
Marc Blitzstein, the American composer who adapted the Bertolt Brecht-Kurt Weill Threepenny Opera for English-speaking audiences with great success, lived and worked at a time of social upheaval, a revolution to which he was firmly committed. Although classically trained as a composer at the Curtis Institute of Music in Philadelphia and later with Nadia Boulanger in Paris and Arnold Schoenberg in Berlin, his credo was "art for society's sake" rather than "art for art's sake." He was also a talented writer and used his talents as both writer and composer for the musical stage to address topics of social importance, often through the agent of political satire. Robert J. Deitz, in his article on Blitzstein in The New Grove Dictionary of Music and Musicians, states: "He was the first composer to develp a convincing music-theater idiom representative of American vernacular speech style" (quoted in the Introduction to the volume). Indeed Aaron Copland said of him that he made indigenous American opera possible (quotes in the Introduction). This volume contains twenty-seven songs, most from stage works composed between 1935 and 1964, a few never before published, and many long out of print. In addition, there are extensive notes by the editor at the back of the volume. A wonderful source of music from one of America's most neglected composers, it fills a gap in the record of development of American song and music theater.
Judith Carman, Journal of Singing, May/June 2003
"... the two volumes of the Marc Blitzstein Songbook comprise a unique and extremely valuable resource of American music worthy of much further study and performance. They are desperately needed additions to even the most basic music library and theater music collections."
Melissa J. De Graaf, MLA Notes, September 2003
Tell us what you think