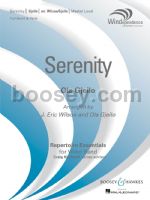 Gjeilo, Ola (Wilson, J. Eric & Gjeilo, Ola) - Serenity (Wind Band Score & Parts)
Instrumentation: Wind Band (score & parts)
ISMN 9790051663330
Publisher Boosey & Hawkes (New York)
Availability: Stock Title
Norwegian composer Ola Gjeilo is an emerging star in the realm of choral works, and also with music for wind band. Similar to his earlier band works Meridian and The Spheres, Serenity is based on a successful choral work. Beautifully arranged by J. Eric Wilson along with the composer, this version for wind band maintains all the wonder and magic of the original work. The opening is ethereal and somber, with sustained chords in clarinets and bowed percussion supporting a delicate oboe solo. The middle section shifts the principal modality from minor to major, and the layering orchestration and rising tessitura creates a tremendous rush of energy that leads to a triumphant climax. The closing section returns to the timbre of the opening, but now painted with hopefulness and healing.


View score with recording:


There are currently no reviews for this product.
Tell us what you think