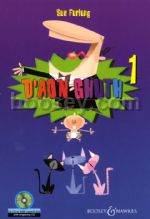 Furlong, Sue - D'Aon Ghuth 1 (With One Voice) (Voice & Piano)
Instrumentation: Voice, Piano
ISMN 9790060116599
ISBN 9780851624624
Publisher Boosey & Hawkes (London)
Availability: Stock Title
Pronounced "Dane Guh", the title translates as "With One Voice".

20 entertaining and enjoyable Irish-language songs, appropriate to the language, musical and vocal ability of primary school children. Book 1 provides music for Junior and Senior Infants, 1st and 2nd Classes. The songs will stimulate children both musically and linguistically.

D'Aon Ghuth is intended for use with the Irish national curriculum for music from 2005.
There are suggested activities for pupils and there are helpful notes for teachers. A CD is also included, containing brilliantly scored backing tracks and high-quality sample performances.

The pupils' pages may be photocopied for use in the classroom or choir.
Contents

01 An aimsir The weather
02 Mé féin Myself
03 An eilifint The elephant
04 Splish splash splosh
05 An feirmeoir The farmer
06 Mo sheachtain My week
07 Fear an phoist The postman
08 Déan deifir! Hurry up!
09 Céard a chonaic tú? What did you see?
10 Boo hoo!
11 An dufair The jungle
12 Céard a rinne Mamaí Béar? What did Mammy Bear make?
13 An spideog The robin
14 Amrhán na n-aoirí Song of the shepherds
15 Tá tuirse ort Lullaby (I am tired)
16 Éistigí Listen to me
17 Mo dheartháir My brother
18 David agus Goliath David and Goliath
19 Fáilte isteach Welcome in
20 An sorcas The circus
---
Press Reviews
The composer of D'Aon Ghuth was set an ambitious brief for this commission. She has embraced this challenge with enthusiasm and dedication and in the process has significantly contributed to Irish language repertoire for young singers.
Larry O'Brien, Chairman, Wexford County Council
Tell us what you think