dancing on the bones
(1997)
for children's voices and ensemble
Duration: 12'
Scoring
3(I,II=picc).2.2.bcl.dbcl.0.dbn-2.2.2.0-perc(2)-2pft-2synth-2gtr-
bass gtr-harp-strings(minimum:3.3.2.2.2)
Abbreviations (PDF)
Publisher
Boosey & Hawkes
Territory
This work is available from Boosey & Hawkes in der ganzen Welt.
Availability
Uraufführung
6/12/1997
Cologne Philharmonie
Ensemble Modern / Sian Edwards
Composer's Notes
Dancing on the bones (Tanz auf den Knochen) ist ein "diabolisches" Scherzo für großes Ensemble. Diese Form der sinfonischen Dichtung war in der zweiten Hälfte des neunzehnten Jahrhunderts populär, und ich habe mir Danse macabre von Camille Saint-Saëns zum Vorbild genommen. Die Sonatenform mit den zwei Themen bleibt gewahrt, aber die Dauer wurde mit 1•7 multipliziert. Das Xylophon im Danse macabre stellt die Knochen tanzender Skelette dar, und es tritt in meinem Stück an den entsprechenden Stellen auf. Die Kombination aus reiner und verminderter Quinte im "verstimmten" Violinsolo des Teufels bei Saint-Saëns wird auch als strukturelles Tonmaterial eingesetzt. Gegen Ende singt ein Kinderchor einen Text über das, was mit dem Körper passiert, wenn man stirbt. Dancing on the bones kann als letzter Teil der Trilogy of the Last Day fungieren, eines Werkzyklus zum Thema Sterblichkeit.



Louis Andriessen, 1998


Reproduction Rights:
This programme note may be reproduced free of charge in concert programmes with a credit to the composer.
Subjects
Recommended Recording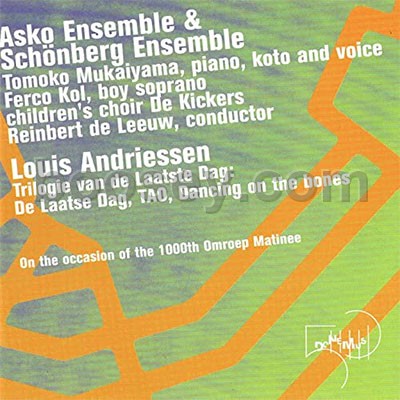 Children Choir De Kickers/Asko Ensemble/
Schönberg Ensemble/Reinbert de Leeuw
Composers Voice CV79
Buy the digital recording from Amazon