dancing on the bones
(1997)
for children's voices and ensemble
Duration: 12'
Scoring
3(I,II=picc).2.2.bcl.dbcl.0.dbn-2.2.2.0-perc(2)-2pft-2synth-2gtr-
bass gtr-harp-strings(minimum:3.3.2.2.2)
Abbreviations (PDF)
Publisher
Boosey & Hawkes
Territory
This work is available from Boosey & Hawkes for the world.
Availability
World Premiere
6/12/1997
Cologne Philharmonie
Ensemble Modern / Sian Edwards
Composer's Notes
Dancing on the bones (Danse sur les ossements) est un scherzo "diabolique" pour grande formation. Cette sorte de poème symphonique était en faveur durant la seconde moitié du dix-neuvième siècle et j'ai pris pour modèle la Danse macabre de Camille Saint-Saëns. La forme sonate et ses deux thèmes en ont été maintenus mais la durée de l'oeuvre a été multipliée par 1,7. Le xylophone de la Danse macabre évoque les os des squelettes en train de danser et apparaît aux mêmes endroits, relativement, dans mon oeuvre. L'association de la quinte juste et de la quinte diminuée du solo de violon "désaccordé" du diable de Saint-Saëns figure également ici comme élément structurel de hauteur de son. Vers la fin, un choeur d'enfants chante un texte sur ce qu'il advient du corps à la mort. Dancing on the bones peut servir de partie finale à ma Trilogy of the Last Day, cycle de pièces sur la mortalité.


Louis Andriessen, 1998


Reproduction Rights:
This programme note may be reproduced free of charge in concert programmes with a credit to the composer.
Subjects
Recommended Recording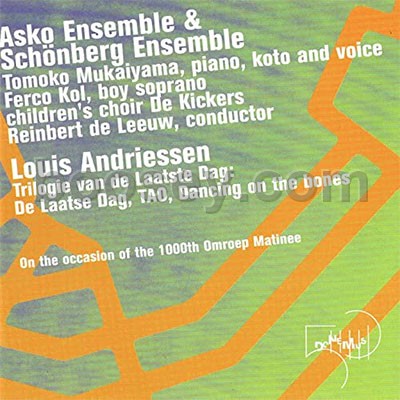 Children Choir De Kickers/Asko Ensemble/
Schönberg Ensemble/Reinbert de Leeuw
Composers Voice CV79
Buy the digital recording from Amazon