for trombone and orchestra
Duration: 28'
Scoring
0.0.0.2.dbn-4.3.3.1-timp.perc(4):xyl/SD/2susp.cyms/glsp/cyms/TD/
marimba/5tom-t/BD/chimes/2bongos/2tam-t/hammer-harp-strings
Abbreviations (PDF)
Publisher
Boosey & Hawkes (Hendon Music)
Territory
This work is available from Boosey & Hawkes for the world.
Availability
World Premiere
12/30/1992
Avery Fisher Hall, New York, NY
Joseph Alessi, trombone / New York Philharmonic / Leonard Slatkin
Composer's Notes
I completed my Trombone Concerto in Fairport, New York on April 5, 1991. The work was commissioned by the New York Philharmonic for its principal trombonist, Joseph Alessi, in honor of the orchestra's sesquicentennial. This was the first in a series of back-to-back concerti I composed for various instruments, later ones being composed for violin, violoncello, and flute.

It occurred to me as I was planning the piece that composers, when writing concerti for brass instruments, have often elected to give such works something of a light character. As a result, I set out to compose a work which, while requiring substantial virtuosity from the soloist, would contain music of a primarily somber and introspective character, one whose tone was serious in tone. I was aided in this by my wish to dedicate a score to the memory of Leonard Bernstein, and it seemed natural to ally such a desire to the realization of a work for the New York Philharmonic, the orchestra which Mr. Bernstein so loved and which he directed for many years.

I got the opportunity to know Mr. Bernstein only in the summer of 1989, although I had admired his work as composer, conductor, and musical evangelist for most of my life. He remains for me a figure of inestimable importance in the history of music, one whose passion for and commitment to his art was unsurpassable, and his sudden death in October 1990 robbed us all of an almost superhuman musical giant. The third movement of my concerto is, in particular, a memorial to Mr. Bernstein, and the quotation of what I call the "Credo" theme from his Symphony No. 3 ("Kaddish") a gesture of the most profound affection and gratitude, mingled with sorrow at his passing.

The concerto is organized as two adagios flanking a central scherzo. The first movement begins and ends with sparse, ritualized music of an understatedly rhetorical nature, with its centerpiece being an expanding passacaglia featuring the soloist accompanied by the strings of the orchestra. The middle movement alternates scurrying music (which introduces the orchestral brass section for the first time in the score) with a more dancelike central part—the music ultimately builds to a loud, almost apocalyptic climax, and this gives way to the elegiac finale, primarily a funeral march, in which the Bernstein quote leads the music back to the hieratic material which began the piece. Each of the movements is connected by a brief cadenza for the solo trombone.

The concerto is scored for an orchestra consisting of two bassoons, contrabassoon, four horns, three trumpets, three trombones, tuba, harp, timpani, xylophone, glockenspiel, chimes, marimba, two suspended cymbals, snare drum, tenor drum, five tom-toms, two bongos, bass drum, a pair of crash cymbals, two tam-tams, and strings.

This work was awarded the 1993 Pulitzer Prize for Music.

— Christopher Rouse

Reproduction Rights:
This program note may be reproduced free of charge in concert programs with a credit to the composer.
Press Quotes
"expressive, serious and often beautiful." —Washington Post
Recommended Recording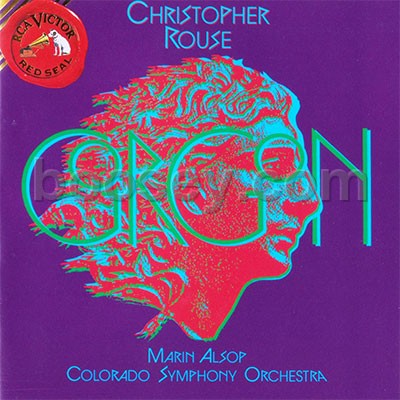 Joseph Alessi/Colorado Symphony Orchestra/Marin Alsop
RCA Red Seal 90926-68410-2
Buy this CD from Amazon
Links