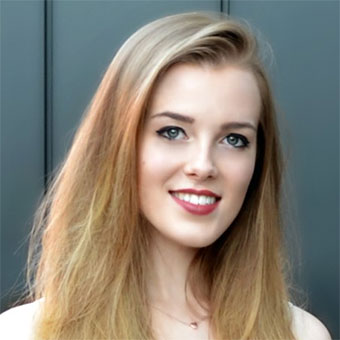 Grace-Evangeline Mason
b. 13 October 1994, Wolverhampton
Born in 1994, Grace-Evangeline Mason grew up in the West Midlands, learning trombone, clarinet and piano. She studied music at the Royal Northern College of Music in Manchester and the University of Oxford, and is currently pursuing her Doctorate in composition at the Royal Academy of Music in London.
Her breakthrough as a composer came as an 18-year-old in 2013 when she won the BBC Young Composer competition, the first of a series of awards and prizes including the Rosamond Prize, the Royal Liverpool Philharmonic Orchestra's Christopher Brooks Prize and the Royal Philharmonic Society Composition Prize. This saw her working with leading ensembles and artists including members of the BBC Symphony Orchestra, BBC Philharmonic, City of Birmingham Symphony Orchestra, the Aurora Orchestra and the Royal Liverpool Philharmonic Orchestra, with works presented by leading UK arts organisations including the Cheltenham Festival, Southbank Centre and BBC Proms.
2016 brought The Yellow Wallpaper, Mason's first operatic work, a compact 20-minute chamber opera for three singers and five instrumentalists, based on the pioneering short story of the same name by American novelist Charlotte Perkins Gilman (1860-1935). The drama is centred on a nameless young woman's descent into psychosis as her mental health issues, namely post-natal depression, are left misunderstood. The opera was premiered successfully by the Helios Collective at English National Opera's Lilian Baylis Studios and received its first North American staging in 2019 by 23Degree Theatre in Montreal.
Mason made her BBC Proms debut as a composer in 2017 with the chamber orchestra work River, commissioned by the BBC Proms and BBC Radio 4 Front Row to commemorate the 300th anniversary of Handel's Water Music. In 2018 she composed Upon Weightless Wings for large chamber ensemble, commissioned by the Royal Liverpool Philharmonic Society to mark the 21st birthday of Ensemble 10:10. The 12-minute work was premiered under the baton of Clark Rundell in 2018 and performed by The Sound Ensemble in Seattle in 2020.
Other recent works include the string trio Into the Abyss, I throw Roses, which was commissioned by the Park Lane Group and has received multiple performances in the UK, US and Canada since its premiere in 2019 at the Southbank Centre's SoundState festival. My thoughts fly in at your window for wind and string octet was commissioned by the City of Birmingham Symphony Orchestra to mark its centenary year and premiered by members of the orchestra in 2020. The same year saw Mason named as the 'face to watch' for classical music in The Times 2020 Calendar of the Arts and in 2021 the newspaper selected her as one of five young stars featured at the BBC Proms, linked with the premiere of her orchestral work The Imagined Forest.
August 2021