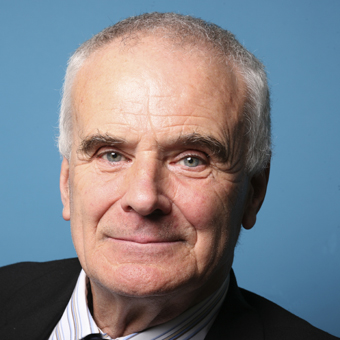 Peter Maxwell Davies
b. 8 September 1934, Manchester
d. 14 March 2016, Sanday, Orkney
With over 200 published works in every medium which are performed worldwide, Peter Maxwell Davies (1934-2016) is acknowledged as one of the foremost composers of our time. He lived much of his life in the Orkney Islands off the north coast of Scotland where he wrote most of his music.
His major theatrical works include the operas Taverner, The Martyrdom of St Magnus and The Doctor of Myddfai; the full-length ballet Salome; and the music theatre works Eight Songs for a Mad King, Miss Donnithorne's Maggot and Vesalii Icones. His large output of orchestral works includes ten symphonies and seventeen concertos, as well as the highly popular An Orkney Wedding with Sunrise which was written as a commission for the Boston Pops Orchestra, and seen by millions of TV viewers all over the world at the Last Night of the Proms. He also wrote a large repertoire of works for performance by children.
Maxwell Davies was also active as a conductor. He was Associate Conductor/Composer of the BBC Philharmonic and Royal Philharmonic Orchestras for a ten-year period, and was Composer Laureate of the Scottish Chamber Orchestra, for whom he wrote a series of ten Strathclyde Concertos. He conducted many major orchestras in Europe and North America, including the Cleveland Orchestra, the Boston Symphony, the San Francisco Symphony, the Leipzig Gewandhaus, the Russian National Orchestra and the Philharmonia Orchestra.
Maxwell Davies works from recent decades included the music-theatre work Mr Emmet Takes a Walk which has received over 50 performances to date, the Antarctic Symphony (Symphony No.8), jointly commissioned by the Philharmonia Orchestra and the British Antarctic Survey, and Sea Orpheus (2009) commissioned for the Orpheus Chamber Orchestra's Brandenburg Project. From 2000 the composer placed a special emphasis on music for chamber ensembles and choirs, including Seven Skies of Winter (2003) for the Nash Ensemble and a String Trio premiered at the St Magnus Festival in 2008. From 2012 Naxos embarked on a major project to reissue the composer's recordings originally made for Collins Classics in the 1990s, including his symphonies.
In 1987 Maxwell Davies was knighted and was Master of the Queen's Music between 2004 and 2014, in which role he sought to raise the profile of music in Great Britain, as well as writing many works for Her Majesty the Queen and for royal occasions.
Music by Peter Maxwell Davies is published by Boosey & Hawkes.
December 2016
This biography can be reproduced free of charge in concert programmes with the following credit: Reprinted by kind permission of Boosey & Hawkes