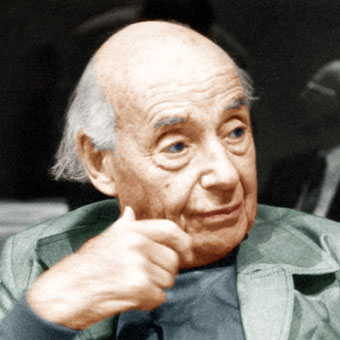 Berthold Goldschmidt
b. 18 January 1903, Hamburg
d. 17 October 1996, London
The musical life of Berthold Goldschmidt straddled the twentieth century. He grew up in Hamburg and studied composition with Franz Schreker at the Musik Hochschule für Musik in Berlin (1922-24). In 1925 he gained employment as a repetiteur under Erich Kleiber, preparing the premiere of Berg's Wozzeck at the Staatsoper, and the following year saw the premieres in Berlin of his prize-winning Passacaglia conducted by Kleiber and of String Quartet No.1. In 1927 he worked for Carl Ebert at the Landestheater in Darmstadt as music adviser and conductor. His opera Der gewaltige Hahnrei (1929-30) was successfully performed at the Nationaltheater in Mannheim in 1932 and was to have been scheduled at the Städtische Oper in Berlin where Goldschmidt worked for Ebert (1931-33), but the Nazi rise to power led to their dismissal and the Jewish composer fled to England in 1935.
As a refugee he initially struggled to find paid work in London, but by the end of the war he was musical director of the German section of the BBC's European service (1944-47), and soon re-established himself as a conductor in performances with the Glyndebourne company at the Edinburgh Festival. Over the next decade he composed the opera Beatrice Cenci (1949-50, unstaged until 1994) for a Festival of Britain competition and three concertos for cello, clarinet and violin, but with the seeming lack of interest for his works amidst the prevailing avant-garde climate he ceased composing. The major enterprise of these years was his collaboration with Deryck Cooke on the completion of Mahler's Symphony No.10, the premiere of which he conducted in 1964.
In 1982, after a compositional silence of 24 years, he began composing again leading to a series of new chamber works and orchestral songs. A Goldschmidt revival, led by conductors Sir Simon Rattle, Lothar Zagrosek, Charles Dutoit and Yakov Kreizberg, and the record companies Largo and Decca, resulted in the nonagenerian composer attending performances and recordings throughout Europe, and enjoying an Indian summer of public acclaim. The most notable outcome of this reappraisal of his work was the rediscovery of Der gewaltige Hahnrei as a major opera of the Weimar Republic years, which resulted in successful new stagings in Berlin, Bern and Darmstadt.
Berthold Goldschmidt is published exclusively by Boosey & Hawkes
This biography can be reproduced free of charge in concert programmes with the following credit: Reprinted by kind permission of Boosey & Hawkes