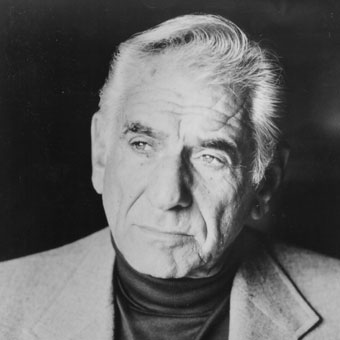 Leonard Bernstein
b. 25 August 1918, Lawrence, Massachusetts
d. 14 October 1990, New York City
Short Biography:
Leonard Bernstein (August 25, 1918 – October 14, 1990) was a world-renowned musician throughout his entire adult life. He served as Music Director of the New York Philharmonic and conducted the world's major orchestras, recording hundreds of performances. His books and the televised Young People's Concerts with the New York Philharmonic established him as a leading educator.
Bernstein's compositions include Jeremiah, The Age of Anxiety, Kaddish, Serenade, Five Anniversaries, Mass, Chichester Psalms, Slava!, Songfest, Divertimento for Orchestra, Missa Brevis, Arias and Barcarolles, Concerto for Orchestra, and A Quiet Place. He also composed for the Broadway musical stage, creating masterpieces such as On the Town, Wonderful Town, Candide, and the immensely popular West Side Story. In addition to the West Side Story collaboration, Bernstein worked with choreographer Jerome Robbins on three major ballets, Fancy Free, Facsimile, and Dybbk. Bernstein was the recipient of many honors, including the Antoinette Perry Tony Award for Distinguished Achievement in the Theater, 11 Emmy awards, the Lifetime Achievement Grammy Award, and the Kennedy Center Honors.
Long Biography:
Composer, conductor, pianist, teacher, thinker, and adventurous spirit, Leonard Bernstein (1918–1990) transformed the way Americans and people everywhere hear and appreciate music. Bernstein's successes as a composer ranged from the Broadway stage—West Side Story, On the Town, Wonderful Town, and Candide—to concert halls all over the world, where his orchestral and choral music continues to thrive.
Bernstein's major concert works include three symphonies—subtitled Jeremiah (1944), The Age of Anxiety (1949), and Kaddish (1963)—as well as Prelude, Fugue and Riffs (1949); Serenade for violin, strings and percussion (1954); Symphonic Dances from West Side Story (1960); Chichester Psalms (1965); Mass: A Theater Piece for Singers, Players and Dancers (1971); Songfest (1977); Divertimento for orchestra (1980); Halil for solo flute and small orchestra (1981); Touches (1981) and Thirteen Anniversaries (1988) for solo piano; Missa Brevis for singers and percussion (1988); Concerto for Orchestra: Jubilee Games (1989); and Arias and Barcarolles (1988). Bernstein also wrote the one-act opera Trouble in Tahiti in 1952, and its sequel, the three-act opera A Quiet Place, in 1983. He collaborated with choreographer Jerome Robbins on three major ballets: Fancy Free (1944), Facsimile (1946), and Dybbuk (1975). He received an Academy Award nomination for his score for On the Waterfront (1954).
As a conductor, Bernstein was a dynamic presence on the podiums of the world's greatest orchestras for almost half a century, building a legacy that endures and continues to grow through a catalogue of over 500 recordings and filmed performances. Bernstein became Music Director of the New York Philharmonic in 1958, a position he held until 1969. Thereafter, as permanent Laureate Conductor, he made frequent guest appearances with the orchestra. Among the world's great orchestras, Bernstein also enjoyed special relationships with the Israel Philharmonic and Vienna Philharmonic, both of which he conducted extensively in live performances and recordings. He won 11 Emmy Awards for his celebrated television work, including the Young People's Concerts series with the New York Philharmonic.
As teacher and performer, he played an active role with the Tanglewood Music Festival from its founding in 1940 until his death, as well as with the Los Angeles Philharmonic Institute and Pacific Music Festival (both of which he helped found) and the Schleswig-Holstein Music Festival. Bernstein received many honors, including the Kennedy Center Honors (1980); the American Academy of Arts and Letters' Gold Medal (1981); the MacDowell Colony's Gold Medal; medals from the Beethoven Society and the Mahler Gesellschaft; New York City's Handel Medallion; a special Tony Award (1969); dozens of honorary degrees and awards from colleges and universities; and national honors from Austria, Italy, Israel, Mexico, Denmark, Germany, and France. In 1985, the National Academy of Recording Arts and Sciences honored Bernstein with the Lifetime Achievement GRAMMY Award. His writings were published in The Joy of Music (1959), Leonard Bernstein's Young People's Concerts (1961), The Infinite Variety of Music (1966), and Findings (1982). As the Charles Eliot Norton Professor of Poetry, Bernstein also delivered six lectures at Harvard University in 1972–73 that were subsequently published and televised as "The Unanswered Question." In 1990, he received the Praemium Imperiale from the Japan Arts Association awarded for lifetime achievement in the arts. Bernstein died on October 14, 1990.
This biography can be reproduced free of charge in concert programmes with the following credit: Reprinted by kind permission of Boosey & Hawkes