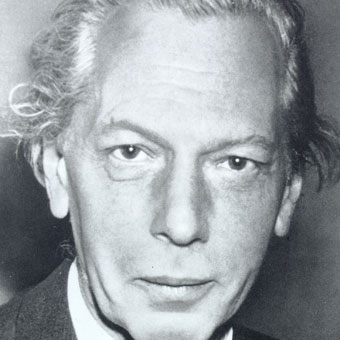 Boris Blacher
b. 19 January 1903, Newchwang, China
d. 30 January 1975, Berlin
Boris Blacher was born on 19 January 1903 in Niutschuang, Manchuria, where his Russo-Asian-Estonian father worked for a bank; his mother was German. The family moved to the Siberian city of Irkutsk in 1914, and in 1922 he went to Berlin to study, first architecture, and then music at the Musikhochschule (1924-26) and the University (1927-31). For some years thereafter Blacher supported himself as an arranger of popular and film music. A first academic post – the beginning of an outstanding career as a teacher – came in 1938, when Karl Böhm obtained a place for him as director of a composition class at the Dresden Conservatory, an appointment he was forced to resign the following year as his teaching did not accord with National Socialist policy. Blacher's progress in German musical life faltered during the Second World War, since he refused to have any truck with the Nazis' cultural doctrines. But with the premiere, in November 1947, of his Orchestral Variations on a Theme by Paganini, it was clear that a major new voice had arrived and a succession of tightly argued, contrapuntally ingenious, rhythmically charged works began to flow from Blacher's pen.
He wrote prolifically in most genres, being particularly attracted to the stage: there are nine ballets, the best known being Lysistrata (1950), and no fewer than thirteen operas, including the 'dramatic nocturne' Die Nachtschwalbe (The Night Swallow), the plot of which, dealing with prostitutes and pimps, caused considerable controversy at its 1948 premiere, and the intriguing, semi-improvised, tongue-in-cheek Abstrakte Oper No. 1. As well as the Paganini Variations, several more works from Blacher's huge output of orchestral music achieved popularity, not least the Concertante Musik (1937) and his Hommage à Mozart (1956). His extensive chamber-music catalogue includes five string quartets, and his vocal music features a collective work, Jüdische Chronik (1961), written with Dessau, Hartmann, Henze and Wagner-Régeny.
Blacher's style took something from Stravinsky's instrumental pungency and the anti-Romantic clarity of Milhaud; Berg and Bartók were other early influences. He also experimented with rhythm, devising what he called 'variable metres', inspired by Schoenberg's note-rows, expanding and contracting to bring metrical variety to the works where he used them, such as the Second Piano Concerto of 1952 and the Orchester-Ornament, written a year later.
In spite of his ceaseless activity as a composer, Blacher was also an important and much-respected teacher: his pupils included Gottfried von Einem, Giselher Klebe, Aribert Reimann, Rudolf Kelterborn and Isang Yun. He was a professor at the Musikhochschule in West Berlin from 1948 until 1970, serving as its director from 1953. He died on 30 January 1975 and, as is often the case, his music fell into neglect immediately thereafter. However, its vitality, uncompromising honesty and sheer physical excitement are beginning again to attract the attention of performers and recording companies, and this Blacher revival is likely to receive further impetus from the composer's centenary in 2003.
Boris Blacher is published by Boosey & Hawkes.
This biography can be reproduced free of charge in concert programmes with the following credit: Reprinted by kind permission of Boosey & Hawkes