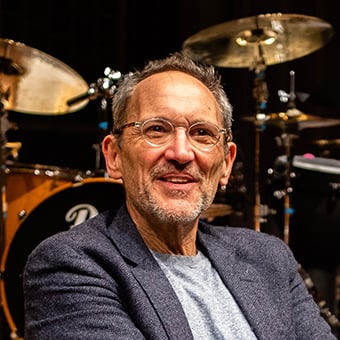 Osvaldo Golijov
b. 5 December 1960, La Plata, Argentina
Osvaldo Golijov nació el 5 de diciembre de 1960 y se crió en un hogar judío en La Plata, Argentina, hijo de padres que emigraron de Europa oriental. Su madre era profesora de piano, su padre era un médico, y Golijov se crió rodeado de música clásica de cámara, música judía litúrgica, el klezmer, y el nuevo estilo de tango de Astor Piazzolla. Después de estudiar piano en el conservatorio local de La Plata y estudiar composición con Gerardo Gandini, Golijov se mudó a Israel en 1983 y estudió con Mark Kopytman en la Academia Rubin de Jerusalén y se sumergió en las variadas tradiciones musicales de esa ciudad. Al mudarse al los Estados Unidos en 1986, Golijov consiguió su doctorado en la Universidad de Pennsylvania, donde estudió con George Crumb, y fue un becario en Tanglewood, bajo la instrucción de Oliver Knussen.
A principios de los años 90, Golijov empezó a trabajar estrechamente con dos cuartetos de cuerda, el St. Lawrence y el Kronos. Los dos conjuntos fueron los primeros en proyectar el estilo volátil y único de Golijov en su forma propia y pura, y ambos continúan interpretando su música regularmente. En el 2002, EMI sacó Yiddishbbuk, un disco nominado al Grammy de la música de cámara de Golijov, que celebra diez años de colaboración con el cuarteto de cuerda de St. Lawrence y que incluye el clarinetista Todd Palmer. El cuarteto Kronos sacó tres grabaciones de sus colaboraciones con Golijov: The Dreams and Prayers of Isaac the Blind, con David Krakauer, Caravan, y Nuevo. Kronos también logró expandir la familia musical de Golijov a través de colaboraciones con artistas como el conjunto gitano romaní Taraf de Haïdouks, el conjunto mejicano de rock Café Tacuba, el virtuoso de tabla Zakir Hussain, y el legendario compositor, guitarrista, y productor musical argentino Gustavo Santaolalla, con quien Golijov sigue colaborando. Por los últimos diez años, Golijov ha sido inspirado por la voz de Dawn Upshaw, y le ha compuesto varias piezas, incluyendo Three Songs for Soprano and Orchestra, la ópera Ainadamar, el ciclo de canciones Ayre, y varias adaptaciones de canciones clásicas y populares.
En el 2000, el estreno de la pieza St. Mark Passion de Golijov asombró a todo el mundo musical. Fue comisionado por Helmuth Hilling para el Festival Musical Europeo de Stuttgart, que conmemoró el 250º aniversario de la muerte de Johann Sebastián Bach. La pieza fue dirigida por Maria Guinand e incluyó a la Schola Cantorum de Caracas y la Orquesta La Pasión (la cual fue creada especialmente para esta pieza por Golijov y el percusionista Mikael Ringquist). El disco del estreno de esta obra musical, distribuida por la compañia discográfica Haenssler Classic, recibió nominaciones para los premios Grammy y Latin Grammy en el 2002. Para el estreno de Ayre, Golijov fundó otro conjunto de virtuosos: The Andalucian Dogs. Juntos con Dawn Upshaw, estos estrenaron la pieza en Zankel Hall y la grabaron para la disquera Deutsche Grammophon. El disco fue nominado por un Grammy en el 2005. En el 2006, Deutche Grammophon sacó la grabación de Ainadamar, en que se destacaron Dawn Upshaw, Kelley O'Connor, y Jessica Rivera en los papeles principales. La interpretación también incluyó a la Orquesta Sinfónica de Atlanta y el coro de la orquesta, ambos dirigidos por Robert Spano, un artista y amigo cercano que ha colaborado con Golijov a lo largo de casi una década y dirigió el estreno mundial de la ópera y también el estreno estadounidense de St. Mark Passion. La grabación de la ópera ganó dos premios Grammy: mejor grabación de ópera y mejor composición clásica contemporánea.
Golijov ha sido comisionado numerosas veces por distinguidos conjuntos e instituciones en los Estados Unidos y Europa. Es el ganador de varios premios, entre ellos un premio de la Fundación MacArthur y un premio Vilcek. Además de los artistas ya nombrados, Golijov trabaja cercanamente con el director Miguel Harth-Bedoya; las cantantes Luciana Souza y Biella da Costa; los violoncelistas Yo-Yo Ma, Alisa Weilerstein, Maya Beiser, y Matt Haimovitz, el virtuoso del kamanche Kayhan Kalhor, y el percusionista Jamey Haddad. Ha trabajado con músicos jóvenes y multitalentosos como Michael Ward-Bergeman, Gonzalo Grau, Ljoya, Jeremy Flower, y Cristina Pato. Ha colaborado con conjuntos como la Orquesta Sinfónica de Atlanta, la Orquesta Sinfónica de Boston, el Silk Road Ensemble, y eighth blackbird. También ha colaborado con el artista Gronk, el dramaturgo David H. Hwang, y el director Peter Sellars, quien puso en escena las presentaciones de Ainadamar en el Santa Fe Opera y Lincoln Center, las cuales fueron aclamadas por la crítica y cuyos boletos fueron agotados completamente.
En enero y febrero del 2006, el Lincoln Center presentó un festival titulado "The Passion of Osvaldo Golijov", destacando múltiples interpretaciones de sus piezas más sobresalientes, su música de cámara, y presentaciones especiales de la música favorita de Golijov. En el 2007, fue nombrado el primer compositor en residencia en el Festival Mostly Mozart. Presentemente, es el co-compositor en residencia, junto con Marc-Anthony Turnage, de la Orquesta Sinfónica de Chicago. También ha sido compositor en residencia del Festival Spoleto USA, la serie Music Alive de la Filarmónica de Los Ángeles, el Festival Marlboro, el Festival de Ravinia, el Festival Musical de Ojai, y varios otros festivales. Golijov es el profesor Loyola de música en College of the Holy Cross en Worcester, MA, donde ha enseñado desde 1991.
Composiciones recientes incluyen la banda sonora del film Youth Without Youth de Francis Ford Coppola (distribuida por Deutsche Grammophon); Azul, un concierto para violoncelo para Yo-Yo Ma y la Orquesta Sinfónica de Boston; Rose of the Winds, estrenado por el Silk Road Ensemble y la Orquesta Sinfónica de Chicago, bajo la dirección de Miguel Harth-Bedoya; Mariel, una elegía musical para violoncelo y orquesta, estrenada en Carnegie Hall por Alban Gerhardt, Miguel Harth-Bedoya y la Orquesta Sinfónica de Fort Worth; She Was Here, un trabajo basado en los lieder de Schubert, estrenado por Dawn Upshaw y la Orquesta de Cámara de St. Paul. Sus trabajos por venir incluyen la banda sonora de Tetro, un nuevo film de Francis Ford Coppola.
Ytalianna Music Publishing publica sus trabajos. Además de Ainadamar, Ayre, Oceana, y Youth Without Youth, en el 2009 Deutsche Grammaphon sacará una nueva grabación de St. Mark Passion y grabaciones de otros trabajos recientes. Nonesuch, Sony Classical, Haenssler Classic, Naxos, Koch, y EMI han sacado otras de sus composiciones.