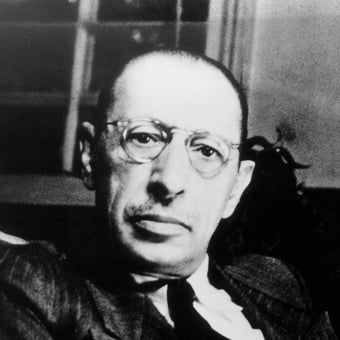 Igor Stravinsky
1882 - 1971
Introduction à la musique de Stravinsky
par Stephen Walsh
Maintenant que le vingtième siècle tire à sa fin, il est clair qu'Igor Stravinski fait partie des deux ou trois plus grands compositeurs, et certainement celui aux talents les plus variés. L'étude de son œuvre touche automatiquement à toutes les grandes tendances de la musique du siècle: néonationalisme vibrant des premiers ballets, nationalisme expérimental plus abrasif de la période de la première guerre mondiale, néoclassicisme des années vingt, trente et quarante, et études de la musique ancienne qui engendra dans les années cinquante des chefs-d'œuvre comme Agon et le Canticum Sacrum et le conduisit à une réinterprétation très personnelle de la méthode sérielle de Schönberg. En chemin, Stravinski rencontra toutes sortes de tendances, tant courantes qu'expérimentales, depuis le futurisme tapageur de l'Italie pré-mussolinienne jusqu'à la musique populaire hollywoodienne des années quarante et à l'avant-gardisme acéré de Boulez et de Stockhausen; et il leur emprunta à toutes quelque chose soit de façon directe soit de façon transformée. Mais s'il fut bien le miroir de son temps, il ne le laissa jamais dicter sa manière d'écrire. Au travers les changements de "manière", les surprises et renonciations du moderniste-né, il demeura essentiellement le même compositeur de Petrouchka au Requiem Canticles.
Stravinski s'imposa dès le départ non seulement comme un innovateur, mais aussi comme quelqu'un pour qui la clarté, la franchise et la faculté d'écoute étaient des vertus primordiales. Petrouchka fut immédiate-ment populaire, bien que nouveau par les nombreux aspects de rythme et de texture; et si le public fut d'abord déconcerté par la férocité du Sacre du printemps, il apprécia vite son effervescence physique et sa simplicité primitive idéalisée. Le compositeur se lassa de l'extravagance de ces premières œuvres, et traversa une phase plus expérimentale dans laquelle il explora, sur une échelle plus réduite et dans un style austère et intime, quelques-uns des aspects les plus suggestifs du Sacre. Ces années de guerre, encadrées par les Trois pièces pour quatuor à cordes et les Symphonies pour instruments à vent, marquèrent l'apogée du radicalisme de Stravinski. La nouvelle recherche stylistique évidente dans ces prototypes de néo-classicisme que sont Mavra et l'Octuor semble exprimer un besoin de retourner à la musique traditionnelle, sans abandonner une attitude moderniste.
Pendant trente ans, Stravinski composa des œuvres qui feignaient d'être tonales, sonates ou concertos au phrasé classique ostensiblement écrites pour une instrumentation "classique" (dans le genre Bach ou Beethoven); ou des œuvres qui feignaient d'être dans le style populaire, comme les Scènes de ballets ou l'Ebony Concerto; et même pour finir un opéra pseudo-mozartien, The Rake's Progress. Si bien que, lorsque, après The Rake, il chercha une fois de plus une base de renouvellement, il prit pour point de départ les plus purs éléments du langage tonal. La Cantate contient des idées d'une simplicité protominimaliste, bien qu'elle complique les choses dans son long mouvement central canonique. Mais le sérialisme, pour Stravinski, ne signifia jamais l'angoisse viennoise torturée à la Schönberg. Il était fasciné par l'esprit fortement arithmétique et la sensualité refoulée de Webern. Mais même les nombres – les nombres peut-être moins qu'autre chose – ne purent réprimer son sens inné du rythme et du mouvement, sa prédilection pour les collisions de sonorités, ou son instinct de l'harmonie sous-jacente; et même la musique la plus obscure de sa dernière période (dans les Mouvements ou les Variations "Huxley") atteint toujours la vitesse d'évasion. Même si elle déroute parfois l'esprit, elle est toujours stimulante.
---
Stravinski eut de nombreux éditeurs, à commencer par Jurgenson à Moscou et Schott à Mayence. Après la deuxième guerre mondiale, Boosey & Hawkes conserva, de loin le plus longtemps, ce client difficile, grâce dans une large mesure au sens des affaires de Ralph Hawkes et à la constante sympathie musicale d'Ernst Roth. Dans les années quarante, Hawkes négocia l'achat du catalogue de la vieille Edition Russe, qui comprenait un grand nombre des plus importantes œuvres de jeunesse de Stravinski, telles que Petrouchka et Le Sacre, et des chefs-d'œuvre des années vingt et trente comme le Concerto pour piano, Oedipus rex, et la Symphonie des psaumes. Le catalogue Boosey & Hawkes offre donc un aperçu complet de la musique de Stravinski, dans toute sa diversité.
Stephen Walsh, 1996
(Lecteur en musicologie a l'Université du Pays de Galles, à Cardiff; ecrivain et metteur en onde et actuellement redigeant une biographie sur Stravinsky.)