Schnittke - Schnittke
The History of D. Johann Fausten
(Historia von D. Johann Fausten: Oper in 3 Akten und einem Epilog)
(1991/94)
Opera in 3 acts, a prologue and an epilogue
Duration: 105 minutes
Music Text
Libretto by Jörg Morgener and Alfred Schnittke based on Johan Spies' 'Historia von D. Johann Fausten' (G)
Scoring
A,CT,T,6Bar,2B; mixed choir; ballet;
3(II=afl,III=picc).3(III=corA).3(I,II=Ebcl,II=asax,III=bcl,barsax).3(III=dbn)-4.4.4.1-timp.perc(5):tgl/2swanee whistle/flex/wdbl/3tom-t/tamb/drums/SD/BD/susp.cym/t.bells/gong/tam-t/glsp/xyl/vib/marimba-elec.gtr-bgtr-hp-cel-2synthesizer-str-historical instruments: fife-crumhorn-lute-zither
Abbreviations (PDF)
Publisher
Sikorski
Availability
Roles
| | |
| --- | --- |
| Doctor Johann Faustus | Bass |
| Narrator | Tenor |
| Mephistophiles | Countertenor |
| Mephistophila / Helen of Troy | Contralto |
| The Old Man | Tenor |
| Three Students | 3 Baritones |
Time and Place
Early 16th century, Germany
Synopsis


The chorus introduces 'The History of Dr.Johann Faustus, the widely famed magician and necromancer…' An ever-present narrator introduces us to Faustus and we witness his first encounter with the devil, Mephistopheles. Writing with his own blood on hot coals, Faustus signs a pact, by means of which he will gain knowledge and power. In return Mephistopheles will claim his soul after a number of years.


Faustus, living in luxury, asks Mephistopheles to bring him a wife, but the devil hurls him into a fire as marriage is ordained by God alone. When Faustus apologises, the devil offers him 'every day and night a woman for thy bed'. At Faustus's request, the devil takes him on a journey to see both Hell and Paradise. Faustus's grief and regret is mocked by a male and female devil (Mephistopheles and Mephistophila). An old Christian man offers to help but, before Faustus can be won over, Mephistopheles reappears, threatens to tear him into pieces, and forces him to sign a second pact, this time with 'the mighty God, Lucifer'. Faustus's heightened grief is only made bearable when he is able to summon up a vision of Helen of Troy.


When twenty-four years have passed since the original pact, Faustus knows the devil will now come to claim him. He takes leave of his students and tells them what he has done. They are appalled and urge him to repent and be saved, but Faustus's attempts at prayer are in vain. Mephistopheles appears and the house is shaken by 'a great storm of wind' and filled with the 'whistling and hissing' of snakes, while Faustus's screams are heard from his study as he is torn to bits. Next morning, the students enter his room and find it strewn with blood and brains and fragments of his body. The chorus tells us to learn the moral of this story and live 'sober' and 'vigilant' lives, resisting evil.
Subjects
Recommended Recording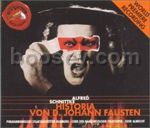 Jürgen Freier, Eberhard Lorenz, Arno Raunig, Hanna Schwarz, Eberhard Büchner, Jonathan Barreto-Ramos, Christoph Johannes Wendel, Jürgen Fersch, Hamburg State Opera Chorus, Hamburg State Opera Orchestra, Gerd Albrecht
RCA Red Seal 09026684132