John Rutter celebrates 60th Birthday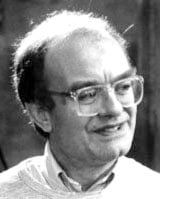 Composer, conductor, arranger & record producer John Rutter celebrated his 60th birthday with concerts in New York City & London.

Born September 24th, 1945, English composer, conductor, arranger and record producer John Rutter has just celebrated his 60th birthday with a celebration concert at Saint Thomas Church in New York City and a performance of his 1985 Requiem at St Paul's Cathedral in London. Oxford University Press are marking the occasion with the release of John Rutter Carols, a selection of his most popular carols in an essential collection for all choirs.
Declared "the world's greatest living composer and conductor of choral music" by The Today Show on NBC, Rutter is best known for his Christmas music, and as the co-editor—with Sir David Willcocks—of the Carols for Choirs series, a staple of most British choirs for over 40 years.
Stephen Moss summed up the situation in The Guardian newspaper in December 2000, when he wrote that "With the possible exception of Santa, no one has a busier Christmas than John Rutter. . . . As composer, arranger and conductor, Rutter has become the musical equivalent of Dickens, synonymous with the season."
Although cheerfully resigned to the fact that he will always be best-known for his carols — "If people know you in one context, they find it hard to think of you in a completely different one" — the range of Rutter's work covers his popular choral pieces Requiem (1985), Magnificat (1990), and Psalmfest (1993); instrumental and orchestral works; a piano concerto; two children's operas; and music for television. John Rutter may well be what the BBC recently called him: "the unsung hero of British music".