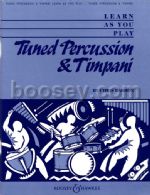 Barron, Christine - Learn As You Play Tuned Percussion & Timpani
Instrumentation: Percussion
ISMN 9790060080982
ISBN 9780851620497
Publisher Boosey & Hawkes (London)
Availability: Stock Title
The award-winning wind, brass and percussion tutor series. Learn As You Play provides everything you need from the first lesson upwards. A well structured course of exercises, studies and pieces ensures a good grounding in technique and musicianship.

LAYP Drums teaches pop, rock, latin and swing styles and many concert pieces are compatible with LAYP Tuned Percussion and Timpani book, so you can play duos, trios or larger ensembles.

An accompanying cassette provides demonstrations of the pieces and exercises and backing tracks for pieces in both LAYP Drums and Tuned Percussion and Timpani.



Together, the two books can make the absolute beginner into an all-round drummer.

"Chris Barron has made a wonderful contribution to percussion education. The whole package is tremendously attractive for teachers and pupils to work from" (Evelyn Glennie).


Press Reviews
"This is an excellent text for introducing students to tuned percussion instruments and is worthy of consideration by any teacher who works with young students."
Percussive Notes, Autumn 1993
"...a good concise work which will provide students with a firm grounding for orchestral playing and any preparation for percussion examination work on timps and tuned percussion."
Tell us what you think