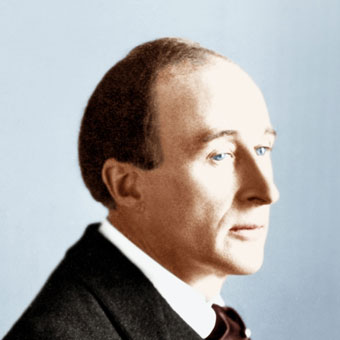 Frederick Delius
1862 - 1934
Introduction à la musique de Delius
par Robert Cowan
S'il fallait choisir l'oeuvre qui témoigne le mieux de la variété du talent de Frederick Delius, ce serait sa rhapsodie pour baryton, choeur et orchestre, Sea Drift, d'après Walt Whitman. Le poème a pour sujet l'amour, la perte et le désir, et l'auditeur ressent comme un violent épisode de sa propre vie, l'attente interminable par l'oiseau de sa compagne perdue. Delius exploite une veine de sentiment universel, et retient l'attention avec une musique qui est à la fois pleine de ressort et infiniment touchante. Comme d'autres chefs d'oeuvre où paroles et musique sont parfaitement assorties, celui-ci nous laisse changés et humbles. Un simple "hédoniste musical" n'aurait jamais pu obtenir un tel résultat.
De fait, les clichés qui ont été attachés à Delius et à sa musique au fil des ans -non seulement comme "hédoniste musical" mais aussi comme "simple miniaturiste" et "poète symphonique d'évasion" - sont injustes envers une oeuvre d'une portée beaucoup plus vaste que ne le ferait penser un examen superficiel. Delius était capable de se déchaîner, et le fit souvent, avec une hardiesse inouïe. Prenez le début de la seconde moitié de son chef d'oeuvre panthéiste avec choeur, A Mass of Life, où le compositeur scrute un horizon montagneux avant de donner libre cours au choeur avec le cri: "Arise, now arise, thou glorious noon-tide". Le texte est de Nietzsche, l'esprit ivre d'une courageuse maîtrise de soi-même. La chaude étreinte des exquis poèmes symphoniques A Song before Sunrise, Summer night on the river ou On hearing the first cuckoo in Spring ne cessera jamais d'accompagner nos rêves les plus doux, mais beaucoup d'autres oeuvres manifestent un élan impatient et un engagement physique très différents, en particulier certains épisodes de l'opéra A Village Romeo and Juliet par leur dynamisme très wagnérien.
On ne saurait nier les dons de miniaturiste inspiré de Delius qui, à l'instar de son idole Grieg, avait la rare capacité de rendre une atmosphère précise en musique grâce à son observation pénétrante de la nature. Mais sa formation au Conservatoire de Leipzig le dota d'un métier nécessaire à un travail de plus grande envergure, ainsi que la riche palette de couleurs correspondante. Son oeuvre pour orchestre comprend deux magistrales séries de variations, Appalachia et Brigg Fair, basées sur un air populaire du comté de Lincoln que lui fit découvrir Percy Grainger. Brigg Fair allie fantaisie et ingéniosité formelle, et s'adoucit autour de son centre pour un épisode plus libre qui suspend le temps; c'est l'un des passages les plus mémorables de toute son oeuvre. Il dicta à son secrétaire Eric Fenby la plupart de ses dernières oeuvres, dont l'une des plus belles est A Song of Summer (créée en 1931, le compositeur aveugle écoutant à la radio). L'oeuvre instrumentale de Delius est couronnée par trois mémorables sonates pour violon, mais on finit toujours par revenir aux oeuvres dans lesquelles intervient la voix humaine, y compris les opéras qui tenaient tant au coeur du compositeur et auxquels justice n'a pas encore été entièrement rendue.
Robert Cowan, 1998
(Journaliste musical à la BBC et Gramophone)