Debussy orchestrations point towards 2018 centenary
(March 2016)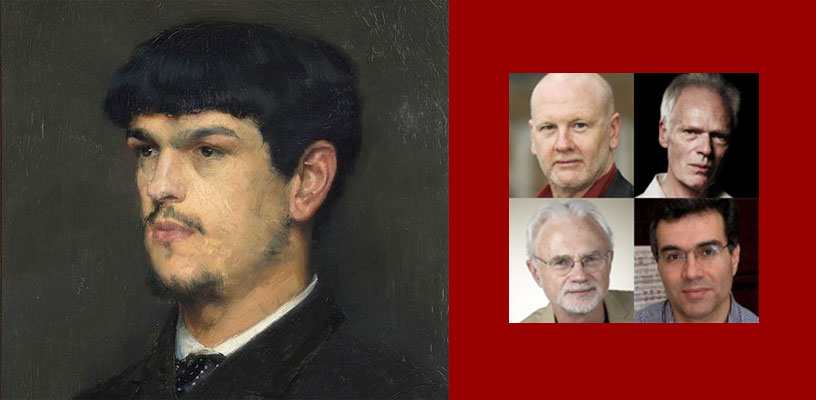 The Claude Debussy centenary in 2018 offers opportunities to hear orchestrations and reinventions of his works by leading contemporary composers
Debussy's songs and piano music offer tantalising material for today's composers who can imagine the works painted in the French master's extraordinary palette of orchestral colours. A range of approaches to orchestration take us from note for note transcriptions to hybrid new works which incorporate Debussy's source material into a wider musical frame. Inevitably the hand of each contemporary composer plays a part, even when the purpose is a pure approach to the original score, so that the orchestrations are fascinating amalgams of old and new.
The 100th anniversary of Debussy's death in 1918 offers orchestras, festivals and broadcasters the chance for imaginative programming of recent orchestrations in 2018, expanding the repertoire of Debussy beyond his familiar oeuvre. The orchestrations can also offer an attractive foil alongside new works by the contemporary composers, widening our perspective on their creativity and relationship with the musical past. Even 100 years after his death, Debussy remains an iconic figure for today's composers, both in terms of his radical break from 19th century tradition and his colouristic vision as an orchestrator.

Ariettes oubliées 
Debussy orch. Brett Dean (2014-15) 16'
for voice and orchestra
Text: Paul Verlaine (F)

Premiere: 29 July 2015
Sydney Opera House
Magdalena Kozená/Australian World Orchestra/Simon Rattle

The poetry of Verlaine resonated with Debussy more than any other writer and was a crucial influence on the development of his musical style, moving him as a young composer away from the traditional French model of Gounod towards a new symbolist realm. The song cycle Ariettes oubliées collects six of the poet's best-known texts, each a glimpse of a memory that captures an image or mood: ecstatic languor, raindrops in the heart, the doleful shadows of trees, the circling of merry-go-round horses, a naturalist love song and a splenetic song of despair.

Brett Dean's music has increasingly demonstrated virtuosic word-painting within a contemporary idiom, thanks to an ear for sonority developed through years of listening within the orchestra as a viola player for the Berlin Philharmonic. A review of the premiere in Sydney described how "Dean is a masterful orchestrator. Shimmering textures and evocative colours evoked an impressionistic soundworld and his vibrant setting of Chevaux de bois recalled Debussy's Fêtes." (The Australian)

Dean's orchestration of Ariettes oubliées was first heard in a programme coupled with Debussy's Prélude à l'après-midi d'un faune.


C'est l'extase
Debussy orch. Robin Holloway (2012) 35'
Ten songs for soprano and orchestra, arranged, linked and scored with an epilogue
Text: Paul Verlaine (F)

Premiere: 10 January 2013
Davies Symphony Hall, San Francisco
Renée Fleming/San Francisco Symphony/Michael Tilson Thomas

The ten songs by Debussy collected by Robin Holloway in his C'est l'extase take in the six within the Ariettes oubliées, three further Verlaine settings published as a group around the same time, and the single song Mandoline in which Debussy first found his individual voice.

Holloway describes how "I have joined most of the ten by tiny orchestral links, retrospective or prospective, to transform mood, texture, tempo, key... the closing number, la mer est plus belle, is prefaced by a more elaborate passage of new music, which becomes the basis for a relatively extensive Epilogue, leading to a final Envoi/Envol where the song's pantheistic/Christian evocation of the sea surges up into the entire cycle's sole sustained climax – radiant effulgence, after so many tender/wistful/melancholy halflights."

Reviewing the first performance in 2013, the San Francisco Chronicle described how "a beautiful and often imaginative treatment of familiar material offered a revelatory exploration of Debussy's musical style". San Francisco Classical Voice commented that "if Debussy's settings take you right to the gate of Verlaine's world, Holloway's orchestrations usher you in, linking the songs and illuminating the view".


En blanc et noir
Debussy orch. Robin Holloway (2002) 17'
for orchestra

Premiere: 11 March 2004
Davies Symphony Hall, San Francisco
San Francisco Symphony/Michael Tilson Thomas

Composed towards the end of Debussy's life, and in a monochrome tinted by the bleakness of the First World War, En blanc et noir is seen by Robin Holloway as a new departure for the French composer, helping to revivify his output in its final years. The black and white of the original for two pianos, is coloured in a masterly manner by Holloway, drawing upon his intimate study of Debussy's music and orchestral techniques.

Cast in three movements, the opening sets the scene of national danger in time of war, with a quoted text in the score from Gounod's Roméo et Juliette calling on men to do their patriotic duty. The second movement is viewed by Holloway as a mini-tone poem depicting the battle between opposing French and German forces, written in memory of the death in 1915 of a young soldier Jacques Charlot who was a nephew of Debussy's publisher Durand. The final movement, dedicated "to my friend Stravinsky", casts black and white as the capricious contrast between summer and winter.

Holloway's orchestration of En blanc et noir has been released on disc by Naxos, within its series of Debussy discs featuring the Orchestre National de Lyon conducted by Jun Märkl.


Le Livre de Baudelaire
Debussy orch. John Adams (1994) 22'
for soprano (or tenor or high baritone) and orchestra
Text: Charles Baudelaire (F)

Premiere: 10 March 1994
Concertgebouw, Amsterdam
Roberta Alexander/Royal Concertgebouw Orchestra/John Adams

In Le Livre de Baudelaire John Adams orchestrates the first four of Debussy's Cinq poèmes de Bauldelaire completed in 1889. The original songs for voice and piano combine the influence of Wagner, following Debussy's visits to two seasons at the Bayreuth Festival, with the equally sensual, but distinctly French poetry of Charles Baudelaire. Debussy's compositional relationship with Wagner at this stage of his career was complex as he tried to break free, so the fingerprints in these songs are partly overt, and partly covert.

Dating from the decade following his opera Nixon in China, Le Livre de Baudelaire shows Adams's growing attraction to the impressionist masters, exploring a shared fascination in evolving patterns, metrical ambiguity and subtle shifts of colour. Having completed orchestrations of piano works by Liszt and Busoni, he turned his attention to Debussy, creating orchestral colours to match the near-symbolist imagery in Baudelaire's poetry. By omitting Debussy's final poème, describing the death of love, Adams ends with Baudelaire's meditation from Fleurs du mal, so that all four movements form a positive celebration of ecstatic love.


The songs have been recorded by Susan Graham (Warner Classics) with the BBC Symphony Orchestra under Yan Pascal Tortelier, but have also been performed effectively by male soloists.


Préludes: Book 2
Debussy orch. Nikos Christodoulou (2012) 40'
for orchestra

Premiere: 21 November 2012
Megaron, Athens
Greek Radio Symphony Orchestra/Nikos Christodoulou

When preparing his orchestrations of Debussy's Préludes Book 2, composer and conductor Nikos Christodoulou was encouraged by the French composer's own orchestrations of his piano pieces and those by others such as Satie. Of all his works Christodoulou sees the Préludes as having "an extraordinary originality of harmony and form. They have a unique, elusive atmosphere with a wide palette of moods – vibrant, tender, energetic, passionate, wistful, eerie, witty, distant and so on, while Debussy, much more than almost any other composer, insists in his score on giving continuous expressive instructions."

Nikos Christodoulou describes how "orchestration is an exploration of the original's essence, not added-on clothing. The wonderful expressive range of the Préludes is naturally related to the orchestration. Yet it is their 'abstract', pure musical quality, as, for instance, the astonishing harmonic structure, that primarily stimulates the orchestration... Debussy, in composing and in 'orchestrating' his elaborate piano textures, has very carefully shaped individual voices, registers and their often intricate relations in a rich canvas."


Selected orchestrations and reinventions of other composers

Bach orch. Birtwistle
Bach Measures

Brahms orch. Glanert
Vier Präludien und Ernste Gesänge

Schubert orch Glanert
Jahreszeiten

Schumann orch. Holloway
Reliquary

Busoni orch. Adams
Berceuse Elegiaque

Liszt orch. Adams
The Black Gondola

Mahler orch. Glanert
Neun Lieder und Gesänge aus "Des Knaben Wunderhorn"
Photos: Debussy, Brett Dean, Robin Holloway, John Adams, Nikos Christodoulou

Boosey & Hawkes Composer News