Elliott Carter's Flute Concerto Premieres with the Boston Symphony Orchestra
(January 2010)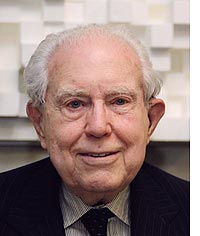 Elliott Carter's Flute Concerto (2008) receives its U.S. premiere with flutist Elizabeth Rowe and the Boston Symphony Orchestra, under the baton of James Levine on February 4-5, 9 at Symphony Hall in Boston.

Commissioned by Jerusalem International Chamber Music Festival, Berlin Philharmonic, and Boston Symphony Orchestra, the thirteen-minute piece received its world premiere in Jerusalem on September 9, 2008 with flutist Emmanuel Pahud and the Jerusalem International Chamber Music Ensemble, led by Daniel Barenboim.

Says Carter, "For many years flutists have been asking for a flute concerto, yet I kept putting it off because I felt that the flute could not produce the sharp attacks that I use so frequently. But the idea of the beautiful qualities of the different registers of the instrument and the extraordinary agility attracted me..." MORE...

View a score sample (6mb).

With the addition of Flute Concerto, Carter's solo concerto output now includes works for horn, violin, cello, flute, oboe, piano, and clarinet. Still his late career burst continues unabated. Of his output of over 125 works, 47 have been composed in the past decade, with seven new pieces in 2008 and eight new pieces in 2009. Though Carter has mostly focused on chamber miniatures in recent years, Flute Concerto is one of twelve orchestral works written since 2000: Cello Concerto (2000), Of Rewaking (2002), Boston Concerto (2002), Dialogues (2003) for piano and orchestra, Three Illusions for Orchestra (2004), Soundings (2005), Horn Concerto (2006), Interventions (2007), as well as Sound Fields (2007) for string orchestra, On Conversing with Paradise (2008) for baritone and chamber orchestra, Concertino for Bass Clarinet and Chamber Orchestra (2009), and What are Years (2009) for soprano and chamber orchestra.

Flute Concerto travels next to Japan on February 19-21 with Felix Renggli and the Hyogo Chamber Orchestra, led by Heinz Holliger. Back in the U.S., James Levine leads pianist Pierre-Laurent Aimard and the BSO in three Boston performances of Dialogues January 28-30 before traveling to New York for a February 1 performance at Carnegie Hall. The Juilliard School hosts the world premiere of Carter's Nine by Five and Retracing II, as well as the U.S. premiere of Wind Rose with William Purvis, Charles Neidich, and the New York Woodwind Quintet on February 11.

View all upcoming performances of Carter works around the world. For scores, recordings, or additional materials please contact jessica.schmitz@boosey.com.
Photo Credit: Jeffrey Herman

Boosey & Hawkes Composer News