Stravinsky's 107-year-old Funeral Song to travel the globe
(November 2016)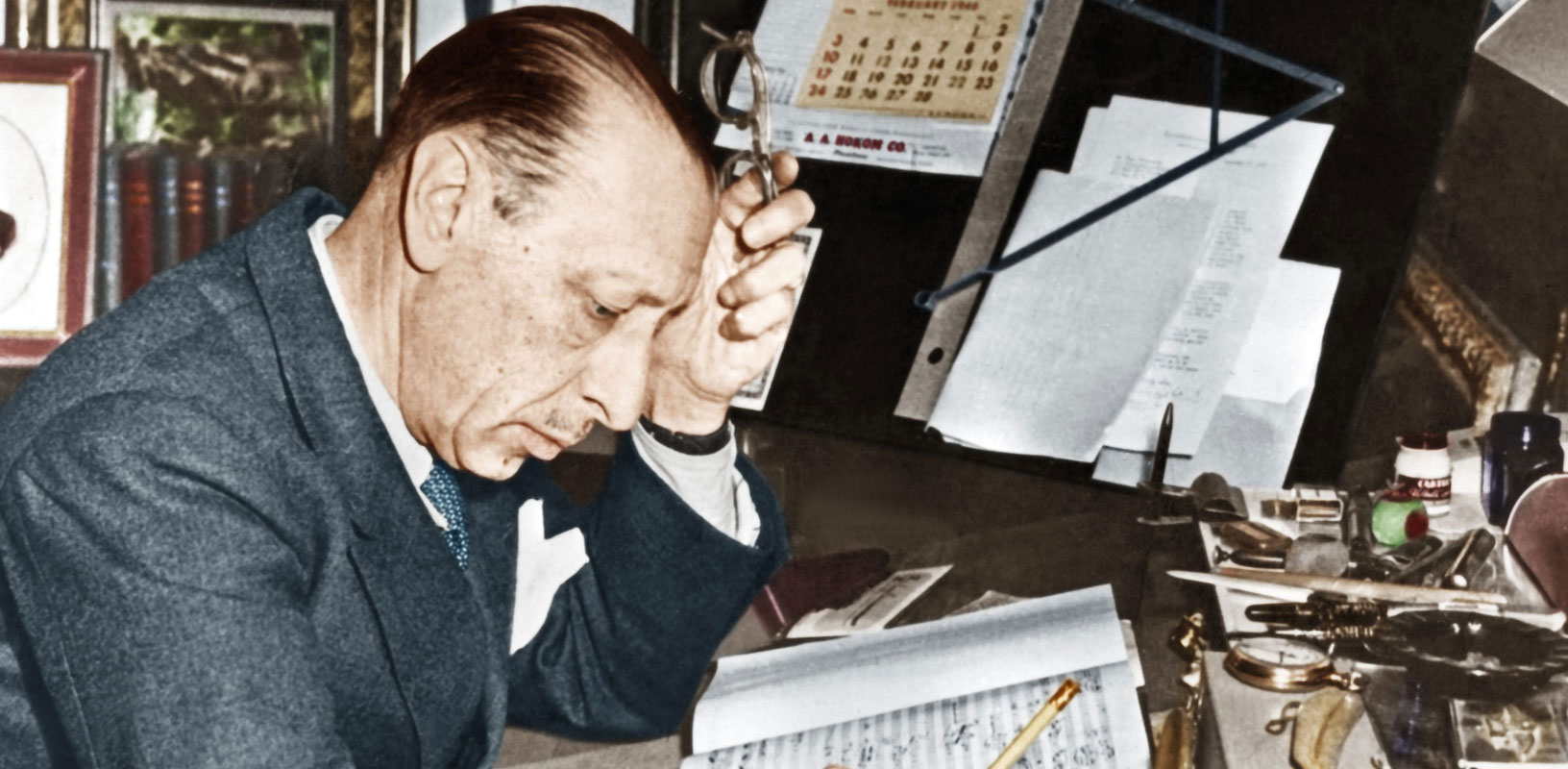 Following its rediscovery last year and performance in St Petersburg in December, Stravinsky's Funeral Song receives premieres in 17 countries around the world, programmed by leading orchestras and conductors.
<DIR=LTR align="left">Orchestras have swiftly added Igor Stravinsky's rediscovered Funeral Song into their current seasons, adjusting their programmes to allow the work to be heard as soon as possible. Following the historic performance at the Mariinsky Theatre on 2 December, conducted by Valery Gergiev, the 12-minute orchestral score will receive over 30 performances in 2017 and beyond, travelling to 17 countries, as listed below. Dates include the UK premiere with the Philharmonia Orchestra conducted by Esa-Pekka Salonen (19 February 2017), the US premiere with the Chicago Symphony Orchestra under Charles Dutoit (6 April) and the German premiere with the Berlin Philharmonic Orchestra and Sir Simon Rattle (31 May).

The music of Igor Stravinsky's Funeral Song (Pogrebal'naya Pesnya) op.5, composed by the young composer as an orchestral memorial tribute to his teacher Nikolai Rimsky-Korsakov, disappeared after its only performance in 1909, returning to light last year in the library of the St Petersburg Rimsky-Korsakov State Conservatory. The rediscovery has aroused immense interest around the musical world, offering a view on the young composer between his early works and his ballet The Firebird which was to launch his international career with Serge Diaghilev's Ballets Russes.

Stephen Walsh, writing in The Guardian, described the "positively electric atmosphere" at the St Petersburg performance as "the Russian audience, deprived of their greatest composer for so many Soviet years, were rightly thrilled that a substantial piece of his had turned up on their home ground… Stravinsky remembered Funeral Song as one of his best early pieces and he was right." Reviewing the performance, Ivan Hewett in the Daily Telegraph detected influences of Tchaikovsky and Wagner, as well as Rimsky-Korsakov, noting the "lament for solo horn, introducing a theme which was sorrowfully passed from instrument to instrument… St Petersburg welcomed back its greatest musical son".

The St Petersburg performance on 2 December was filmed for television and streamed live by Medici.tv and Mezzo. A video introduction to Funeral Song is presented on the Mariinsky TV channel by Dr Natalia Braginskaya, whose musicological sleuthing led to the rediscovery of the orchestral parts for the work. The score of Funeral Song, reconstructed from the complete set of parts by Dr Braginskaya and the St Petersburg Conservatory, is now available for programming. Performance materials are on rental from Boosey & Hawkes, Stravinsky's principal publisher, and a study score will be published in April 2017 in the iconic Hawkes Pocket Scores series.

> Watch Funeral Song on Medici.tv 
> Watch a video introduction on Mariinsky.tv 


Funeral Song premieres in 2017 and beyond

20/21 Jan
Lotte Concert Hall, Seoul
(Asian premiere)
Seoul Philharmonic Orchestra/Markus Stenz

16 Feb
Esplanade Concert Hall, Singapore
(Southeast Asian premiere)
Singapore Symphony Orchestra/Charles Dutoit

18 Feb
Royal Concertgebouw Hall, Amsterdam
(Dutch premiere)
NTR ZaterdagMatinee series
Netherlands Radio Philharmonic/Markus Stenz

19 Feb
Royal Festival Hall, London
(UK premiere)
Philharmonia Orchestra/Esa-Pekka Salonen

24 Feb
Auditorio Nacional de la Música, Madrid
(Spanish premiere)
Philharmonia Orchestra/Esa-Pekka Salonen

2 Mar
Théâtre des Champs-Elysées, Paris
(French premiere)
Orchestre Natoinal de France/James Gaffigan

6/7/11 Apr
Symphony Center, Chicago
(North American premiere)
Chicago Symphony Orchestra/Charles Dutoit

18 May
Tokyo Opera City, Tokyo
(Japanese premiere)
Philharmonia Orchestra/Esa-Pekka Salonen

25 May
Auditorium RAI, Turin
(Italian premiere)
Orchestra Sinfonica Nazionale RAI/James Conlon

31 May, 2/3 Jun
Philharmonie, Berlin
(German premiere)
Berliner Philharmoniker/Sir Simon Rattle

29/30 Jun, 1 Jul
Sydney Opera House
(Australian premiere)
Sydney Symphony Orchestra/Charles Dutoit

7/8 Sep
Grieghallen, Bergen
(Norwegian premiere)
Bergen Philharmonic Orchestra/Edward Gardner

19/21 Oct
Konserthuset, Stockholm
(Swedish premiere)
Royal Stockholm Philharmonic Orchestra/Sakari Oramo

26/27 Oct
Gulbenkian Foundation, Lisbon
(Portuguese premiere)
Orquestra Gulbenkian/Lawrence Foster

8/9 Nov
Smetana Hall, Prague
(Czech premiere)
Prague Symphony Orchestra/Petr Altrichter

8 Dec
Grand Hall of the Kolarac Foundation, Belgrade
(Serbian premiere)
Belgrade Philharmonic Orchestra/Hans Graf

17/19 May 2018
DR Koncerthuset, Copenhagen
(Danish premiere)
Danish National Symphony Orchestra/Juanjo Mena

Further performances of Funeral Song around the world are currently being confirmed. For an up-to-date list, please visit www.boosey.com/FuneralSongDates.

> Read more about the rediscovery of Funeral Song 




Photo: detail from flute part of Stravinsky's Funeral Song, appearing within Natalia Braginskaya's paper about the rediscovery in Acta Musicologica.

Boosey & Hawkes Composer News