Symphony No. 14, op. 135 Full Score (New Collected Works, Vol. 14)
from New Collected Works, Vol. 14, Ist Series: Symphonies
Shostakovich, Dmitri
Editor: Andrey Yakovlev.
Symphony No. 14, op. 135 Full Score (New Collected Works, Vol. 14)
from New Collected Works, Vol. 14, Ist Series: Symphonies
Shostakovich, Dmitri
Editor: Andrey Yakovlev.
Instrumentation: soprano soloist, bass soloist and chamber orchestra
Catalogue No: M060126413
ISMN: 9790060126413
Shop Product Code: 2671794
Currently Unavailable - Click the Availability Alert to enter your name and email address. We will notify you when this item is available to order.

* Estimated price converted from UK retail price
Click below to view music sample pages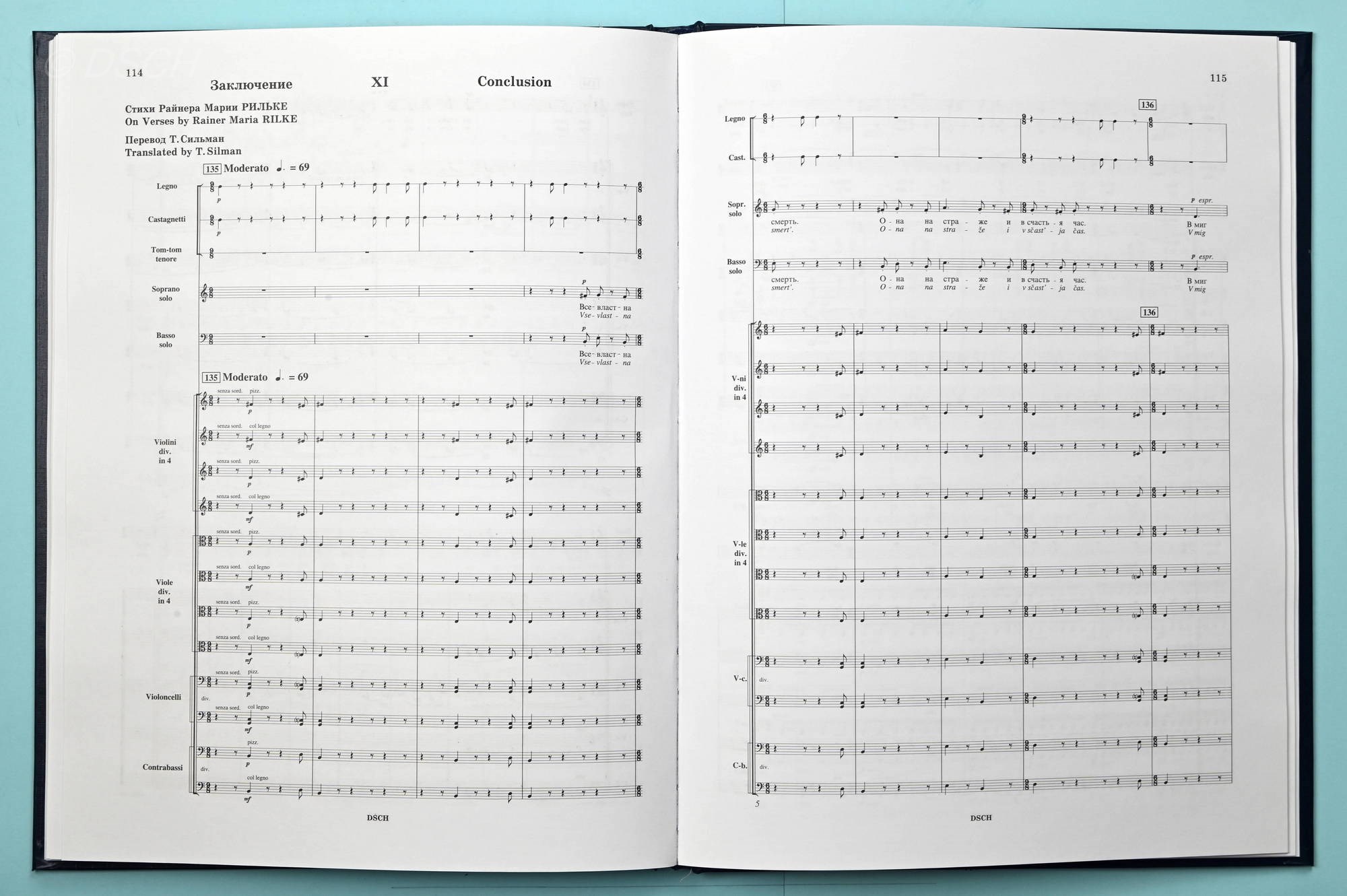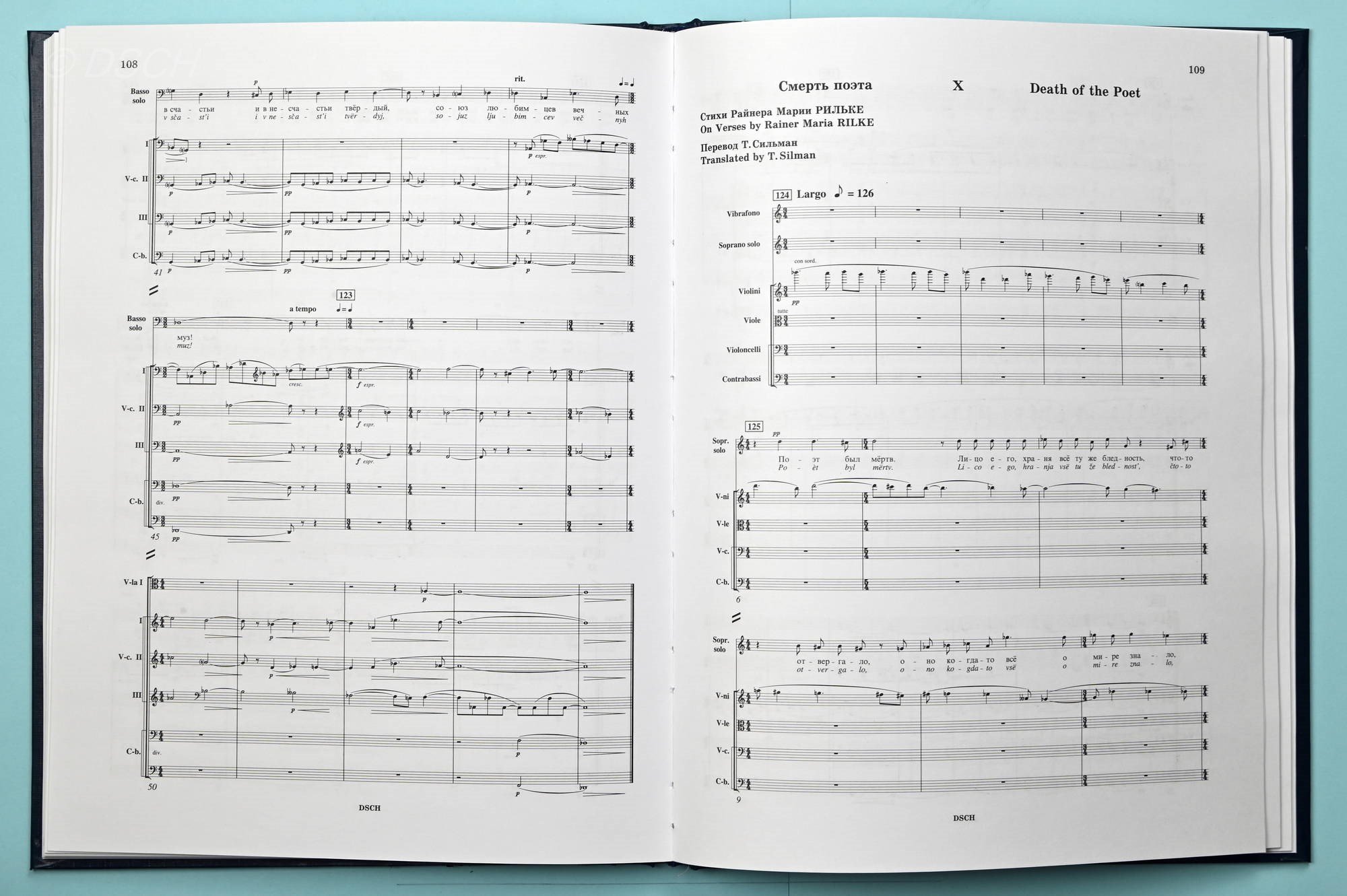 The Piano vocal score completed in a Moscow hospital on 16 February 1969; the full score at his Moscow apartment on 2 March 1969. Dedicated to Benjamin Britten with a personal score inscribed 'To dear Benjamin Britten as a token of profound respect from a cordially devoted D. Shostakovich 1 XII 1969 Moscow'. This publication is based on the first edition of the score put out by Muzyka Publishers, Moscow, 1971; it also takes into consideration the score published in Volume 8 of Dmitri Shostakovich's Collected Works by Muzyka Publishers, Moscow, 1980, as well as the author's manuscript of the score and author's corrections in the hand-written copy of the score and in the text of the 1971 edition. In some cases, the indications given in the author's manuscript of the piano score are taken into account.
Instrumentation:
Castanets, Wood block, Whip, 3 Tom-toms (soprano, alto, and tenor—1 player), Orchestral bells, Xylophone, Vibraphone, Celesta, Soprano and Bass soloists, 10 Violins, 4 Violas, 3 Cellos, 2 Five-string Doublebasses
This ambitious series by DSCH, the exclusive publisher of the works of Dmitri Shostakovich, when complete, will run to 150 volumes.
Based on authentic manuscripts, accompanied by commentaries in Russian and in English, each volume contains new engravings, articles relating to the history of the compositions, facsimile pages of Shostakovich's manuscripts, outlines, and rough drafts.
Divided into 15 different "series" or genres, the edition will include nearly all the original works of the composer, and his instrumentation of music by Domenico Scarlatti, Beethoven, Schubert, Schumann, Mussorgsky, Rimsky-Korsakov, Johann Strauss, Youmans, Braga, Tishchenko, and others.
25% of the New Collected Works will be made up of previously unpublished material: over 80 of his works are being published here for the first time. Many of these previously unknown works could not be published or performed during the composer's lifetime for ideological reasons.
The fifteen "series" within the edition comprise:
I: Symphonies (vols 1-30)
II: Orchestra Compositions (vols 31-37)
III: Instrumental Concertos (vols 38-49)
IV: Compositions for the Stage (vols 50-67)
V: Suites from Operas and Ballets (vols 68-72)
VI: Compositions for Choir and Orchestra (With or Without Soloists) (vols 73-83)
VII: Unaccompanied Choral Compositions/Arrangements of Russian Folksongs (vols 84-86)
VIII: Compositions for Solo Voice(S) With Orchestra (vols 87-90)
IX: Chamber Compositions for Voice and Songs (vols 91-97)
X: Chamber Instrumental Ensembles (vols 98-105)
XI: Instrumental Sonatas(vols 106-108)
XII: Piano Compositions (vols 109-115)
XIII: Incidental Music (vols 116-121)
XIV: Film Music (vols 122-145)
XV: The Works of Other Composers, Instrumentation by Shostakovich (vols 146-150)