Cool Cat & Co.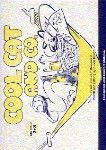 Cool Cat & Co.
Availability: Usually shipped within 24 - 48 hours

* Estimated price converted from UK retail price
Gill and Vern Beaumont. Ten progressive pieces for descant recorder, electronic keyboard, percussion and voice. Catchy music which can involve the whole class or small groups working independently. Each song has a rhythmic ostinato for untuned percussion. 'Holiday Rock', 'Alpine Fest' and 'Bounce' have descant recorder in two parts. This ensemble book works well in both classroom and concert.