Symphony No.9 in Eb major Op 70 - Full Score (New Collected Works vol.9)
Series I: Symphonies
Dmitri Shostakovich
Symphony No.9 in Eb major Op 70 - Full Score (New Collected Works vol.9)
Series I: Symphonies
Dmitri Shostakovich
Vol No: 9
Instrumentation: (full score) New Collected Works 9
Catalogue No: M060935848
ISMN: 9790060935848
Shop Product Code: 1657384
Currently Unavailable - We are unable to order in stock for this DSCH publication from Russia at the present time.

* Estimated price converted from UK retail price
Click below to view music sample pages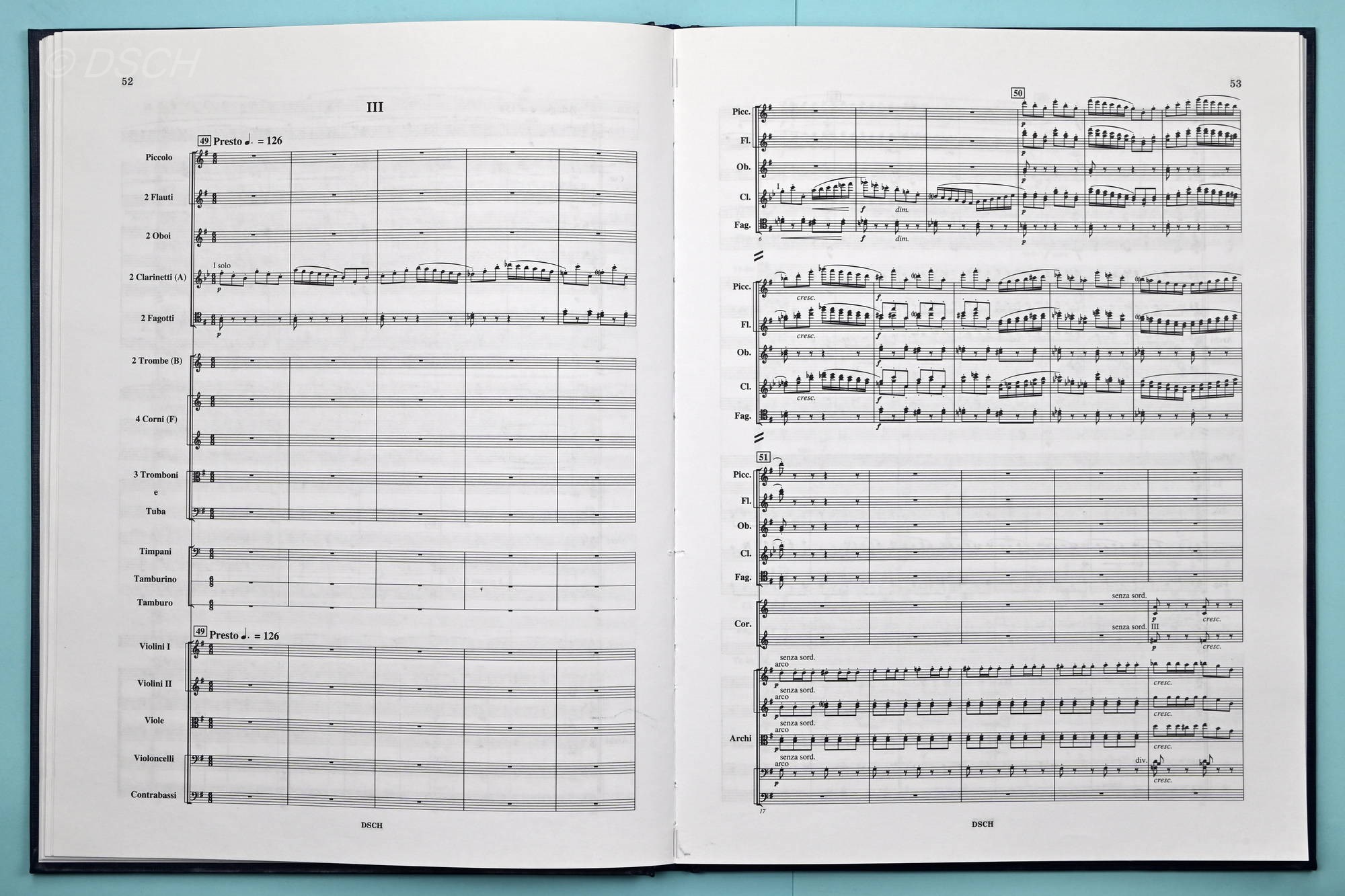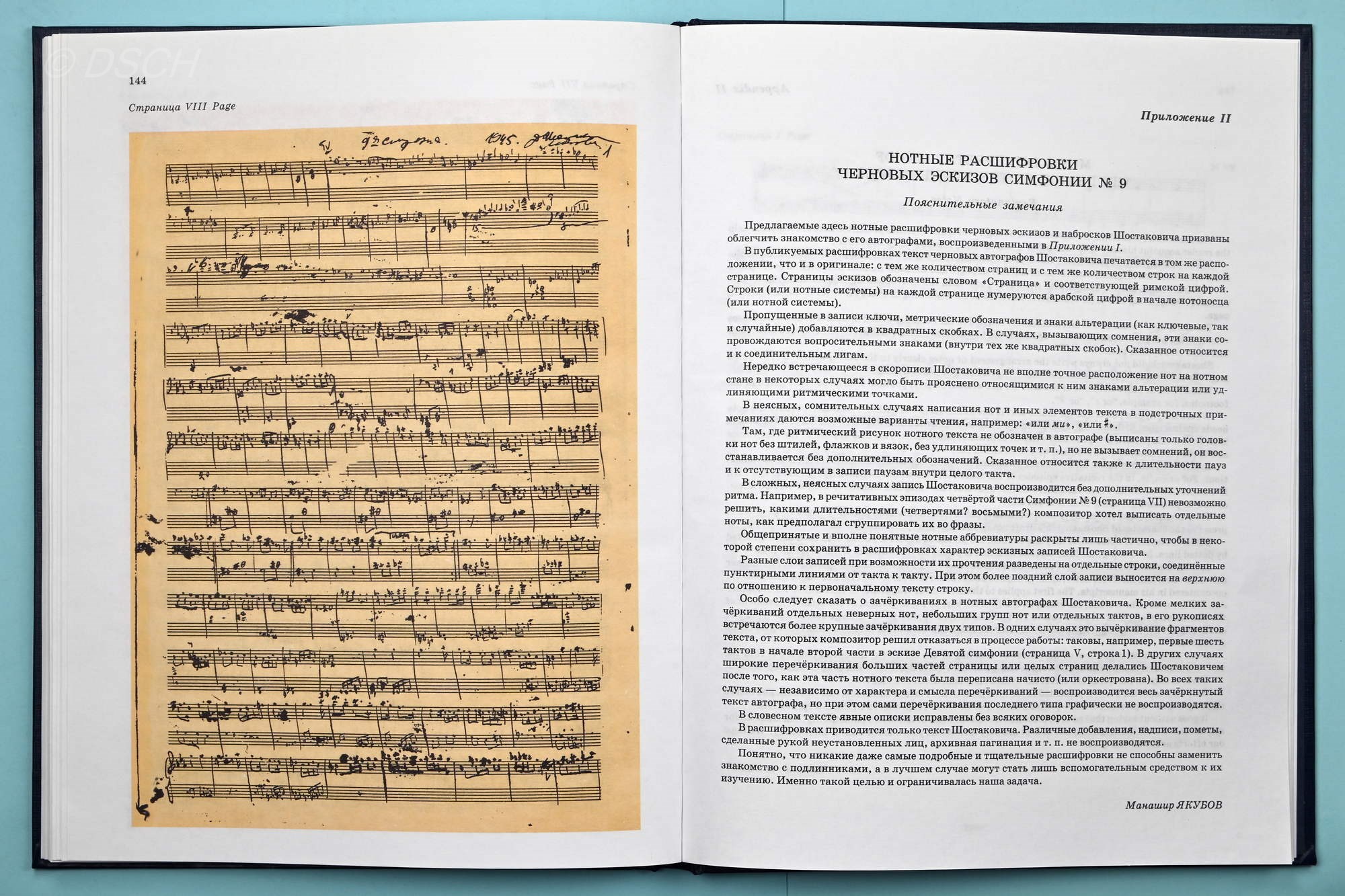 Dmitri Shostakovich precisely recorded the total time taken to finish the score of the Ninth Symphony in his manuscript, in which he entered the date when work on the first movement began and the dates when all the movements were completed. He began the first movement on 2 August and finished it on 5 August in Moscow, then composed the next three movements at the Composers' House in Ivanovo, whereby he finished the second movement on 12 August, the third on 20 August, and the fourth on 21 August. The last page of the author's manuscript of the score bears the inscription: "D. Shostakovich 30 VIII 1945 Moscow." Thus, it took Shostakovich about one month to write the score for his shortest symphony.
The following sources were used in preparing this edition: the author's manuscript of the score kept in Dmitri Shostakovich's private archive in the Russian State Archives of Literature and Art (rec. gr. 2048, inv. 1, f. 12); proof sheet of an edition of the score with the author's corrections, dated 1946, kept in Dmitri Shostakovich's private archive in the Glinka State Central Museum of Musical Culture (rec. gr. 32, f. 12), all the editions of the score printed during Shostakovich's lifetime in the Soviet Union, and the edition included in the first posthumous Collected Works of Dmitri Shostakovich (Vol. 5, Muzyka Publishers, Moscow, 1979).
Instrumentation:
Piccolo, 2 Flutes, 2 Oboes, 2 Clarinets (B flat and A), 2 Bassoons, 4 Horns, 2 Trumpets, 3 Trombones, Tuba. Timpani, Triangle, Tambourine, Side drum, Cymbals, Bass drum, 1st Violins (16–20), 2nd Violins (14–18), Violas (12–16), Cellos (12–16), Double-basses (10–14).
Divided into 15 different "series" or genres, the edition will include nearly all the original works of the composer, and his instrumentation of music by Domenico Scarlatti, Beethoven, Schubert, Schumann, Mussorgsky, Rimsky-Korsakov, Johann Strauss, Youmans, Braga, Tishchenko, and others.
25% of the New Collected Works will be made up of previously unpublished material: over 80 of his works are being published here for the first time. Many of these previously unknown works could not be published or performed during the composer's lifetime for ideological reasons.
The fifteen "series" within the edition comprise:
I: Symphonies (vols 1-30)
II: Orchestra Compositions (vols 31-37)
III: Instrumental Concertos (vols 38-49)
IV: Compositions for the Stage (vols 50-67)
V: Suites from Operas and Ballets (vols 68-72)
VI: Compositions for Choir and Orchestra (With or Without Soloists) (vols 73-83)
VII: Unaccompanied Choral Compositions/Arrangements of Russian Folksongs (vols 84-86)
VIII: Compositions for Solo Voice(S) With Orchestra (vols 87-90)
IX: Chamber Compositions for Voice and Songs (vols 91-97)
X: Chamber Instrumental Ensembles (vols 98-105)
XI: Instrumental Sonatas(vols 106-108)
XII: Piano Compositions (vols 109-115)
XIII: Incidental Music (vols 116-121)
XIV: Film Music (vols 122-145)
XV: The Works of Other Composers, Instrumentation by Shostakovich (vols 146-150)