Classical Music CD-ROM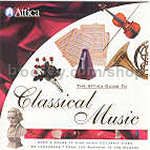 Classical Music CD-ROM
Instrumentation: CD-ROM
Catalogue No: M060106309
ISMN: 9790060106309
Availability: Usually shipped within 24 - 48 hours

* Estimated price converted from UK retail price
An interactive guide to classical music, from the Baroque to the Modern. Featuring over 4 hours of music, this CD-ROM allows you to look and learn about great classical music, it's creators, or simply sit back and listen to it.

Composers:  Find out about the lives of over 600 composers with comprehensive biographies, works lists and recommended listening guides

Compositions:  Find out about over 200 pieces all with audio or video extracts

Performance:  Programme your own concert performance.  Choose the music type, period and composer you want to hear, then sit back and listen to your own concert!





Timeline:  A history rich section packed with information on births, deaths, compositions, first performances and other key events in the lives of great composers - for every year since 1659!