Rockschool Drums 2012-2018 Grade 5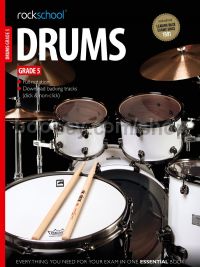 Rockschool Drums 2012-2018 Grade 5
Catalogue No: RSK051224
Shop Product Code: 255068C
Special Offer
$10.05

*
if you buy 2 + (10% off)
$9.49

*
if you buy 3 + (15% off)
In Stock:

Usually despatched within 24-48 hours

* Estimated price converted from UK retail price
The highly anticipated new syllabus from Rockschool is the culmination of two years of hard work from the good people at Rockschool.

Even at the early grades, the examinations cover a huge range of styles, and Rockschool have made use of some of the most talented and sought-after session musicians to ensure the tunes are the most authentic on offer.

Rockschool builds upon its 21 years of unrivalled experience in rock and pop examination by bringing you the 2012-2018 Syllabus. For this latest Syllabus, Rockschool have employed some of the most sought after professional musicians to ensure that their tunes are the most authentic on offer.

Drums Syllabus Features

Plot your stylistic specialism - follow your preferred style up through the grades
6 Performance pieces, 6 varying styles
Fact files - band and artist background information with recommended further listening
Walkthroughs - Hints and Tips on the tricky sections of the songs
Standard Notation
Free Choice Element – You can select 2 free choice pieces in your exam
All Rockschool grades are fully accredited throughout the UK by the qualifications regulators of England (OfQual) Wales (DCELLS) Northern Ireland (CCEA) AND Scotland (SQA Accreditation).