Weddings for Choirs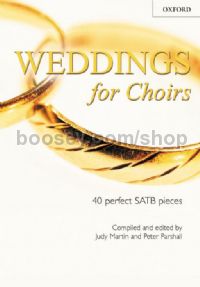 Weddings for Choirs
Arranger: Martin & Parshall
Catalogue No: 9780193532656
$21.11
Bulk Discounts Available
$19.00

*
if you buy 10 + (10% off)
$17.95

*
if you buy 30 + (15% off)
Availability: Usually shipped within 7 working days

* Estimated price converted from UK retail price
A terrific volume of Wedding pieces for mixed SATB choirs, compiled and edited by Judy Martin and Peter Marshall. Weddings For Choirs is the perfect anthology for you and your choir, with its careful selection of forty superb pieces, all chosen to complement every part of a wedding service, whether sacred or secular, grand or intimate!

Many of the traditional and familiar pieces are presented here in new practical arrangements to help choirs whose rehearsal time is limited, or non-existent! With detailed indexes and suggested usage in the wedding service this is a most helpful, enjoyable and wide-ranging collection to help make the day special!

Full Vocal score for SATB chorus with Organ or Piano accompaniment.