Edward Huws Jones: The Nordic Fiddler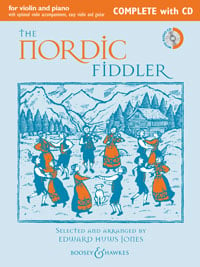 An exciting new addition to the popular Fiddler Collections series, featuring traditional music from Scandinavia.
Fiddler Collections is a hit series making authentic folk music available in a flexible format suitable for teaching, busking and performance.
The Nordic Fiddler features traditional music from Scandinavia - Denmark, Finland, Iceland, Norway, Sweden. Explore the rich variety of the Nordic tradition, from the Polish-influenced polska dances to a Norwegian Wedding Song.
• The easy violin part to The Devil's Tune is available as a free download so that the piece may be played in duet with the violin melody part.
Three supplementary pieces with audio can be downloaded from our Digital Music store:
• Karelian quadrille (Finland)
• Knorifas & Reel from Roskilde (Denmark)
• Lullaby (Sleep My Little One) (Iceland)