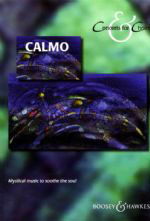 A wealth of material for concerts which draws on a vast range of music, including specially-composed pieces.
The Boosey & Hawkes Concerts for Choirs series is an innovative approach to concert planning for choirs. Each volume contains a wealth of material to help the choral director assemble a concert programme - all from one volume. The anthology draws on the vast Boosey and Hawkes archive and also includes many specially-composed or newly-arranged pieces.
Featuring 7 volumes of Concerts for Choirs music as well as Concerts for Choirs Highlights - a selection of individual choral pieces from the innovative series.