Eatnemen Vuelie from Disney's Frozen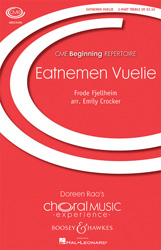 From the opening of Disney's Frozen, Frode Fjellheim's Eatnemen Vuelie is a song inspired by Norwegian culture.
Eatnemen Vuelie (Song of the Earth) is inspired by the traditional Sami "yoik", a very old vocal tradition among the Sami people of Scandinavia and Russia. This folk tradition blends superbly with the Danish Christmas hymn Dejlig er jorden.
This beautiful music for SSAA was used in the Disney animated film Frozen. Now available in several voicings, all choirs can now enjoy these works that are infused with style and ethnic authenticity that will bring a wonderful and unique sound to your choral concert.
Listen to the Norwegian female choir Cantus singing the piece below. To find out more about the choir view their official website