Christopher Norton: Eastern Preludes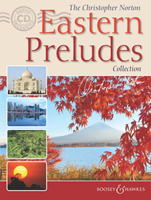 A new captivating collection of 14 new Eastern Preludes, inspired by traditional music from the world's largest continent.
Explore the rich musical landscape of the East as each Prelude weaves together native themes from countries including China, India, Japan, Korea, and Thailand with Christopher Norton's characteristically innovative popular music styles. Ideal for intermediate to advanced-level keyboard players, these pieces are perfect for the concert platform, as well as providing excellent teaching material.
An accompanying CD puts each Prelude on the map with stylish demonstration performances by Iain Farrington.
4 new Eastern Preludes are available now from the Digital Music Store: