Pre-Order the ABRSM Woowind Syllabus from 2022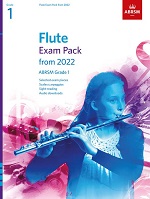 A wide range of new supporting publications for Flute, Clarinet and Saxophone are now available to pre-order.
ABRSM are excited to introduce their new Woodwind syllabus, which publishes on 8 July 2021. Developed using feedback from over 600 teachers, it will include newly commissioned pieces as well as retaining tried and tested favourites that teachers will be delighted to see as still part of the syllabus.