Christopher Norton: 40 Years of Microjazz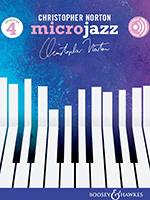 To celebrate Microjazz in it's 40th anniversary year save 25% on Microjazz Piano Collections from bestselling education author, Christopher Norton.
Christopher Norton's acclaimed Microjazz series has won worldwide popularity with teachers and students alike for its stimulating blend of contemporary genres and classical values. Two beginners' books and five collections of repertoire pieces form seven clearly defined levels of achievement, making Microjazz the ideal basis for progressive learning and teaching.