Boosey & Hawkes Contemporary Choral Series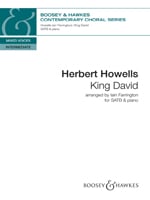 This vibrant series combines music from well-established figures and the finest emerging composers of our time.
The new Boosey & Hawkes Contemporary Choral Series offers an exciting choice of choral pieces by some of the most acclaimed composers, from Thomas Hewitt Jones and Herbert Howells to James MacMillan and Karl Jenkins.
Now available from the Boosey & Hawkes Online Shop.
Composer/Arranger Profiles
Thomas Hewitt Jones
Thomas Hewitt Jones is an award-winning composer of concert and commercial music. Winner of the BBC Young Composer competition in 2003, he has since had a number of pieces performed, broadcast and published. His ballet, vocal and instrumental music, in particular, is highly acclaimed.
Iain Farrington (arranger King David)
Iain Farrington has an exceptionally busy and diverse career as a pianist, organist, composer and arranger. He studied at the Royal Academy of Music and St John's College, Cambridge University. He has worked with some of the country's leading musicians, including Bryn Terfel, Lesley Garrett, John Mark Ainsley, the Royal Ballet, the BBC Singers, Sir Simon Rattle and Sir Colin Davis.
Ed Rex
Ed's musical education started in the Choir of King's College, Cambridge, where he was a chorister. He went on to the King's School, Canterbury, before returning to Cambridge as a Choral Scholar at King's, and graduated from Cambridge with a double-starred First in Music in 2010. He has written for various groups, including The King's Singers, VOCES8 and the Choir of King's College, Cambridge, and has composed music for theatre in the West End.
Will Todd
Will Todd is a UK-based performer and composer whose music spans a variety of styles and genres. Best known for his choral works, his 2003 jazz mass setting Mass in Blue has been performed more than eighty times since its premiere by choirs in the UK, Europe and the USA. Other notable works for choir range from large scale oratorios such as Saint Cuthbert (recorded by the Hallé Orchestra in 2002) to the anthem Stay with Me Lord, commissioned for The Sixteen.
Karl Jenkins
Karl Jenkins is one of the most prolific, popular and performed composers in the world today. His recorded output has resulted in 17 gold and platinum discs, while his The Armed Man: a Mass for Peace has received almost a thousand performances in the decade since its première in 2000. Classically trained, Jenkins transcends musical boundaries, from the seminal fusion band Soft Machine to the global crossover phenomenon Adiemus.
James MacMillan
His early successes as a composer in the 1990s included The Confession of Isobel Gowdie, premiered at the BBC Proms, and the percussion concerto Veni, Veni, Emmanuel written for Evelyn Glennie. MacMillan has a special interest in choral composition, ranging from simple liturgical settings for use in church services, to major works for choir and orchestra including Seven Last Words from the Cross, Quickening and St John Passion.