ABRSM Music Theory Practice Papers & Model Answers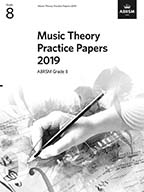 ABRSM's official Practice Papers are essential resources for candidates preparing for their Music Theory exams.
The new papers are selected from ABRSM's 2019 Music Theory exam papers. Each graded collection contains four papers from the 2019 exams; there is also a corresponding set of Model Answers for each grade.