ABRSM Strings syllabus 2020-2023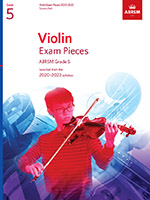 New books now available!
ABRSM are delighted to introduce their new Bowed Strings syllabus for use in exams from 2020 onwards.
Refreshed repertoire for Violin, Viola, Cello and Double Bass will offer more choice than ever before, with the lists extended at all grades.
Along with new books of Violin Exam Pieces, books of Cello Exam Pieces will be available for the first time, bringing together an attractive selection of pieces from across the three lists in one easy-to-use edition.
ABRSM are also introducing a new Initial grade exam from January 2020. This assessment is supported by Exam Pack books for all four instruments.
All books are now available to order; click the instrument below to see the full range and order your copies today!