Bestselling Hawkes Pocket Scores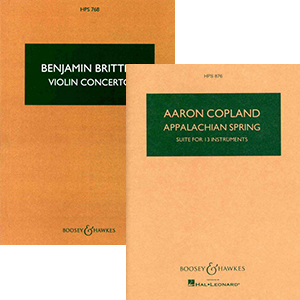 The Hawkes Pocket Score series was launched in 1941 with the release of HPS 1, an affordable study score edition of Edward Elgar's high-spirited depiction of Edwardian London, the Cockaigne Overture.
Since then, Hawkes Pocket Scores have become synonymous with the best in 20th century and contemporary music. The series currently includes close to 500 works by masters such as Stravinsky, Rachmaninoff, Bernstein and Copland alongside music by notable working composers like Harrison Birtwistle, James MacMillan, Unsuk Chin and Steve Reich.
The books, with their familiar brown and green cover, are beloved by musicians and enthusiasts everywhere and can be found in the libraries of composers, conductors, conservatoires, universities and orchestras throughout the world.
Explore the complete Hawkes Pocket Score range